Watch Aamir Khan get his nose and ears pierced for Thugs of Hindostan, actually spill blood for movie
Aamir Khan left no stone unturned in his preparation to play Firangi Mallah in Thugs of Hindostan. Watch him get his nose and ears pierced in new behind-the-scenes video.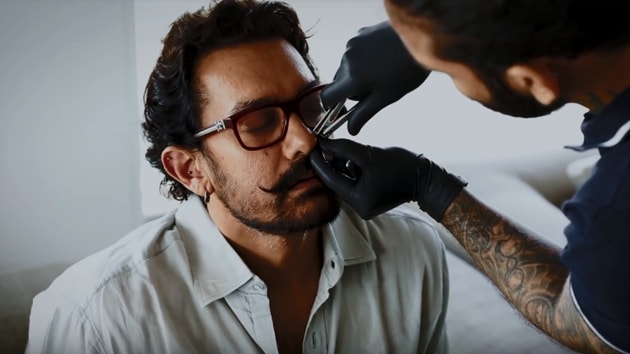 Updated on Nov 06, 2018 03:51 PM IST
In a new featurette video for Thugs of Hindostan, the cast and crew discuss Aamir Khan's colourful character, Firangi Mallah. "The first time I heard the script I really loved the character of Firangi," says Aamir in the video, shared by Yash Raj Films on Tuesday. "He's a strange guy because he's not a very reliable person at all, he's constantly lying."
The film's director, Vijay Krishna Acharya chimed in, "He's not a character you would want in your life. That was his charm."
Amitabh Bachchan, who plays Khudabaksh in the film, said that he's often told Aamir that this is his finest ever performance. "He has a dual personality. He's great fun, he's smart, he's very intelligent. And he has the difficult job of balancing two great powers," Amitabh said.
Acharya said that there is a joy in seeing Aamir become the character, but he feared that Aamir might become so much like Firangi that he may become untrustworthy.
"Fortunately," Aamir said, "I don't know anyone like Firangi, but there is a little bit of Firangi in all of us." The film's costume designers spoke about how they chose green to be his colour, "because he's a chameleon."
The video ends with footage of Aamir actually getting his nose and ears pierced, because he wanted authenticity. Aamir chooses the thickest and heftiest nose pin, and expresses genuine shock when blood flows after the piercing. "Aamir has actually spilled blood for this role," Acharya says in the video.
Thugs of Hindostan, touted as the most expensive Bollywood film ever made (the budget is a reported ₹300 crore). Also starring Fatima Sana Shaikh and Katrina Kaif, the film has been slated for a November 8 release.
Follow @htshowbiz for more
Close Story