Watch Sanju song Baba Bolta Hain; Ranbir Kapoor-Sanjay Dutt's rage anthem against media
The Sanju song Baba Bolta Hain Bas Ho Gaya, featuring Ranbir Kapoor and Sanjay Dutt, has been released online. Watch as they rage against the media.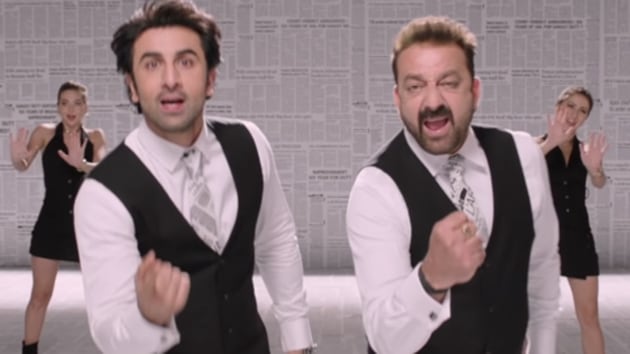 Updated on Jul 01, 2018 03:35 PM IST
T-Series has released the music video for the song Baba Bolta Hain Bas Ho Gaya from the film Sanju, based on the life of actor Sanjay Dutt and starring Ranbir Kapoor. The song features both Ranbir and Sanjay as they interact with each other and backup dancers perform in the background.
The lyrics of the song target the 'fake news' that the media allegedly spread about Sanjay's life and troubles with the law. This is a theme that is ever-present in the film, and has also been the reason many audience members have questioned director Rajkumar Hirani's approach to fixing the actor's image by blaming the media's coverage of his life.
"Achhi khaasi life ka circus ho gaya (they made a mockery of a perfectly fine life)," Ranbir and Sanjay sing in the video. The lyrics also highlight how the media can exaggerate the lives of celebrities by reporting a simple nap as passing out in a drunken state. The song also questions the 'sources' who reveal insights into celebrities' lives and how stars are at the mercy of what has been written about them.
The video ends with both Ranbir and Sanjay ripping newspapers angrily and throwing them in the audience's faces.
The Hindustan Times review says, "Sanju shows what we all know. There are riots, an actor whose producers have direct links with the underworld and a media prone to sensationalism. Out of these, Hirani picks the media as the antagonist. Slowly and steadily, everything boils down to the topic of media being the real culprit because it kept the spotlight on Sanjay."
The film, despite mixed reactions, has gone on to become a runaway success at the box office, raking in ₹73.35 crore in just two days of release.
Follow @htshowbiz for more
Close Story