Book review: Meet the detective who can fill the gap between Sherlock Holmes and James Bond
Apr 08, 2018 04:38 PM IST
The Irregular — A Different Class of Spy is a pulsating story that uses the frame of a murder mystery to exhibit international intrigue, history and social issues.
The First World War is still five years away, but London is already an arena for proxy conflict between its potential European allies or adversaries — and their revolutionaries. And with the Great Detective of Baker Street having retired, and James Bond yet to come on the scene, who can Britain depend upon?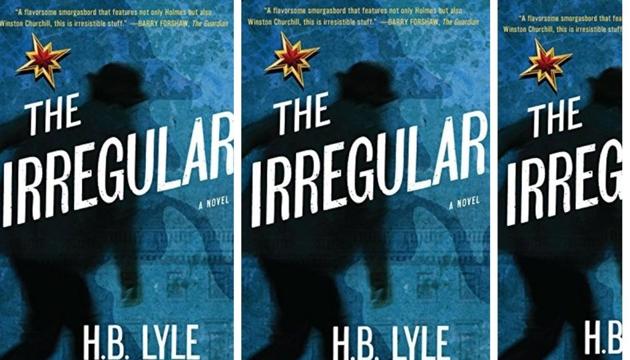 That is a question concerning an army officer in the War Office tasked with combating subversive activities. But Captain Vernon Kell has more problems than the lack of funds and support from an oblivious government, and a superior fixated on the idea that Germans are the prime threat and demanding he supply proof.
In the class-conscious British society of the Edwardian era, his biggest problem is that the staffers he has stand out in places where they have to be deployed — like a munitions factory from where plans are being stolen — are easily identified by the ruthless enemy and liquidated. Consulting Sherlock Holmes, living in retirement in the country, he is given a unique suggestion.
And in this engrossing story, H.B. Lyle finally does justice to a prominent and promising character from Holmes' world who had not yet got a place in the sun. The once chief of the force that served as the detective's nearly invisible but highly effective eyes and ears on the London streets — Wiggins of the Baker Street Irregulars.
But our young hero is reluctant to get back into government service after his experiences as a soldier. All that changes when his friend, a London police constable, is shot dead by a Russian anarchist after a robbery, and his own attempts to find who is responsible, among the closed, suspicious world of Russian emigres in the city, are both unsuccessful and potentially lethal.
Saved from certain death by a mysterious Russian woman, Wiggins is convinced by Holmes to help Kell and simultaneously achieve his own objective while keeping his employer in the dark about it. At the same time, seen hanging around Socialist meetings, he is also co-opted by a duo of Russian revolutionaries to help them in their own nefarious activities on behalf of their shadowy chief.
Meanwhile, Kell is not having an easy job of it, convincing his superiors that he is on the right track, but perseveres with the help of Winston Churchill, then at the start of his political career. But his time is limited until Wiggins can get something for him.
And can Wiggins, who has imbibed the Great Detective's art of acute observation, survive in a shadowy world where few people are what they seem, killing is the simplest option, and the majestic forces of law and order may not always behind you? Can he fulfill both his tasks without losing his life in the dark streets of the city? And will he come to terms with what he finds?
Lyle, who was involved in feature films before turning to writing, skillfully spins both fact and fiction to create a tense, pulsating story that uses the frame of a murder mystery to exhibit international intrigue, history and social issues. It is not only about proxy wars and "false flag" operations, but also about a society on the brink of great political and social change. Socialism and Marxist parties pulsating story that uses the frame of a murder mystery to exhibit international intrigue, history and social issues — including those with not qualms about violence — are spreading, while women are demanding the vote as a prelude to equality.
The latter is most ably represented by Kell's wife, a suffragist, and turning out to be better at clandestine work than her husband — forcing him to rethink most of his prevailing assumptions. Swinging between London's high class dwellings and squalid slums, featuring Holmes and Watson, as well as real figures like Bolshevik Yakov Peters, and others, Lyle has laid the foundations of a new, engrossing series that takes up a period not very frequently focused in the thriller genre. So while Sherlock Holmes aficionados will find it quite interesting, so will a lot of others.
The Irregular — A Different Class of Spy; Author: HB Lyle; Publisher: Hodder&Stoughton/Hachette India; Pages: 288; Price: ₹399
Follow @htlifeandstyle for more
"Exciting news! Hindustan Times is now on WhatsApp Channels
Subscribe today by clicking the link and stay updated with the latest news!"
Click here!