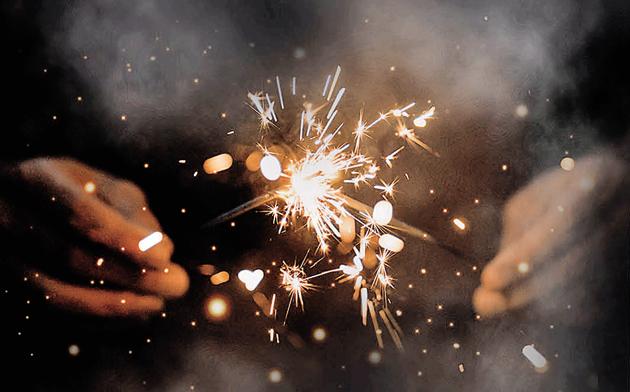 Happy Diwali!
It's the festival that is celebrated all across India – but in many different ways
Hindustan Times | By Seema Goswami
UPDATED ON NOV 04, 2018 01:48 AM IST
No sooner did the Supreme Court of India declare that firecrackers (and only the 'green' variety – whatever those might be) could only be let off between 8 and 10pm on Diwali than the protests began. Most of them emanated from outraged firecracker enthusiasts who could not understand why they had to restrict their passion within a narrow two-hour band. (Pollution? What pollution? Don't you know it's caused by all those pesky cars and trucks? Not to mention the burning of agricultural waste in neighbouring farmland.)
But there were some who had an entirely different problem. These people were from the south of India, where it is customary to celebrate the festival during the day. In the south Indian tradition you mark Diwali by having an oil bath in the morning, getting dressed in new clothes, doing a puja, and then setting off all the firecrackers you can lay your hands on. How could these communities possibly celebrate according to their traditions and not fall afoul of the Supreme Court ruling? Especially considering that they celebrate Diwali the day before north India does.
And those are not even the main differences between a north Indian and south Indian Diwali. For starters, it is called Deepawali (not Diwali) in south India. And it marks – no, not the victory of Lord Ram over Ravana – the day Lord Krishna killed the demon Narakasura after a fierce battle. It is believed that after Lord Krishna vanquished the demon, he had an oil massage and then a hot bath. So, in emulation of the Lord, south Indians begin the day by oiling their bodies – or ritually anointing their heads – and then having a bath just as Krishna did. Only after this ritual Ganga Snanam is over, and they have donned new clothes for that day, do the festivities and fireworks commence. And yes, they take place over the daytime. Surely, the Supreme Court could have made provision for that?
The truth is that while popular culture revolves around the Diwali rituals and celebrations of north Indian communities, there are as many different ways to mark the festival all over India as there are different communities.
In Maharashtra, for instance, we see an interesting amalgamation of south Indian and north Indian traditions. The day before Diwali is celebrated as Narak Chaturdashi to mark the defeat of Narakasura by Lord Krishna (just like they do in the south). The day starts with an oil massage but here a special ubtan (scrub), made from sandalwood, camphor, rose, orange skin, turmeric, etc., is used before the ritual bath (called the abhyang-snan here). On Diwali day, however, Maharashtra falls in line with the rest of north India to worship the Goddess Lakshmi, and then set off some – you guessed it! – firecrackers.
In Bengal and some other parts of eastern India, however, the goddess who is worshipped on this occasion is not Lakshmi but Kali. In fact, the festival is described as Kali Puja rather than Diwali in these parts, and is dedicated to the fierce goddess who killed all the demons in her path (and used their heads to fashion a garland she wears around her neck). When the gods wanted to stop her killing spree, they sent her husband, Lord Shiva, who lay down in her path. In her fury, Kali stepped on him too before realising her mistake. Which is why she is pictured with her tongue out and her foot on Shiva's chest. It is this fierce incarnation of the Devi who is worshipped here at midnight, not the benign Lakshmi.
In Gujarat, on the other hand, it is the Goddess of Wealth who reigns supreme on this day. For Gujaratis, Diwali marks the end of the year and the next day is celebrated as Bestu Varas, or New Year's Day. So, while Diwali is marked with a Lakshmi Puja in the evening, in which the whole family gathers to propitiate the Goddess, the following day is devoted to welcoming in the New Year. It is heralded by the bursting of firecrackers at 4am (wonder what the Supreme Court will have to say about that!) because of the Hindu belief that the new day begins as dawn. And then begin the endless greetings of 'Saal Mubarak' as Gujaratis across the world call to wish each other a Happy New Year.
In Punjab, while the Hindu community follows the standard north Indian pattern of celebrating Diwali with Lakshmi Puja, the Sikhs mark this date because this was when Guru Hargobind, the sixth Guru, was released from prison by Emperor Jahangir in 1619 along with 52 other princes whose release he secured. The occasion was marked by lighting up the Golden Temple in Amritsar, and that tradition continues to this day. So, when you see the Golden Temple all lit up, remember it's not Diwali they're celebrating, it is Bandhi Chhor Diwas (Prisoner Release Day), yet another example of the triumph of good over evil.
But no matter which community is doing the celebrating, fireworks seem to be mandatory on this occasion. So, will the Supreme Court ruling make any difference to how people mark the festival of lights – and increasingly, noise – all over India?
Well, give it a few days and we'll find out one way or the other. Until then, I wouldn't hold my breath – unless, of course, I am forced to by all the pollutants in the air.
Journalist and author Seema Goswami has been a columnist with HT Brunch since 2004.
Spectator appears every fortnight
From HT Brunch, November 4, 2018
Follow us on twitter.com/HTBrunch
Connect with us on facebook.com/hindustantimesbrunch
Close