How to beat suicide: Real stories from real people
Three people who attempted suicide in the past spoke to Brunch about their ordeals, and how they overcame them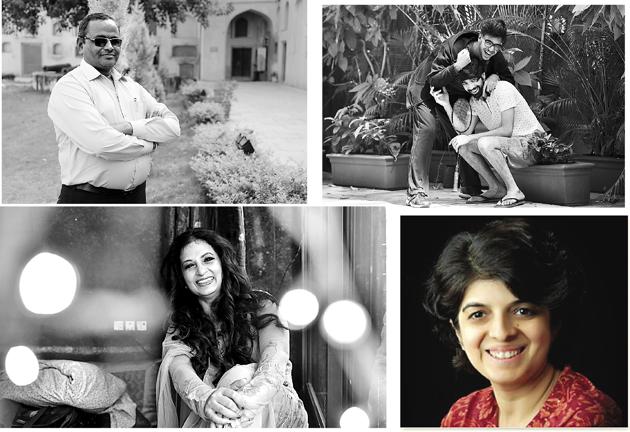 Published on Feb 11, 2017 08:48 PM IST
Is there any shame in seeking help if you are depressed and frequently find yourself thinking about self harm? None at all, says psychiatrist Dr Anjali Chhabria. "Two-thirds of the people who attempt suicide can be helped but are not, because of a lack of understanding among the general populace and the stigma attached to seeking psychiatric support," says Chhabria, whose book, Death is Not the Answer, attempts to understand suicides and how they can be prevented. "So much is being done in terms of cancer awareness, so why not for suicides?" she asks.
Three people who attempted suicide in the past spoke to Brunch about their ordeals, and how they overcame them.
Therapy to the rescue
Businessman Anil Kumar Rander, 44, tried to commit suicide almost 50 times, but came out victorious
I would stand by the roadside at the Makrana Chauraha in Kishangarh (Ajmer, Rajasthan) and wait for nightfall. As soon as it got dark, I would shut my eyes and run into the oncoming traffic, hoping to be hit by one of the huge trucks ferrying marble slabs to the industrial area. I attempted suicide close to 50 times.
I couldn't share how I felt with anyone, even my wife, out of shame and fear that everyone around me would think I was mad. I used to feel useless, worthless and hopeless. I couldn't focus on work, was irritable, sleepless, lost interest in my two children, and didn't feel like talking to anyone. My business suffered as did my personal life. At one point I wept all the time, especially at night when I couldn't sleep.
Seeing me withdrawn at a family wedding in Goa, my Mumbai-based siblings took me to a psychiatrist in their city. I was diagnosed with clinical depression triggered by work-related stress, and was on medication and therapy for a few months.
I believe it is better to have your leg broken than suffer from a terrible illness like depression. In case of the former, people can understand what you are going through. Depression takes away your will to live, but medical intervention has worked wonders for me. I have regained my desire to live and now have a new purpose: to talk about depression to more people and spread awareness. It is important to understand that this is an illness just like any other. It is wrong to hide it. It is curable. Why should anyone suffer in silence when they can get help?
Fighting negativity
25-year-old student Aakash Pawar (right) made one last call to a friend before jumping off a train… she talked him out of it
I was on the platform waiting for the local train. As a train came in, I decided I would get on and jump off it and end my misery. But something made me call a friend one last time. She talked me out of it.
The second time I made such an attempt, my psychiatrist saved me. I am still on medication, and therapy sessions with my doctor have helped me fight self-defeating, negative thoughts. I've realised that you can turn anything around as long as you are alive.
I have struggled with depression since I was 12, though it was diagnosed just three years ago. In Mumbai in my 12th grade, I became friends with a boy in my class who was good at studies and extracurricular activities. He was somewhat effeminate and everyone called him a homosexual. So he killed himself. In his note, he expressed despair at being unable to make friends or being understood by his parents, and at the complete lack of a support system in his life. Then another school friend killed herself and I was so distraught that I flunked my 12th exams.
In my second year of college, I resorted to drug abuse. A friend then introduced me to Nichiren Daishonin's Buddhism. It enabled me to visit a psychiatrist and continue with therapy even when it got difficult.
At first my parents resisted the idea, but eventually they saw the difference that help made. When you have diabetes, you see a doctor, right? Similarly, if you have depression, it is only sensible to seek medical intervention. There is nothing to be embarrassed about. It is a sign of courage.
The love recipe
44-year-old survivor Neetu Ghosh, who heads her brand Neetu's Kitchen, now runs a support group for single people struggling with urban loneliness
At 22, I became a single mother of two little boys after I walked out of a five-year-old abusive marriage. I found love again, but after three years my boyfriend ended our relationship because I was a divorcee. I had a nervous breakdown.
The pain was just too much. I tried to end my life. My parents took me to a psychiatrist, but I mixed my medicines with sleeping tablets or overdosed myself nearly 20 times. When I would wake up in hospital after every suicide attempt, I would plead with my doctor to give me some coins so I could use the phone booth to call my ex.
When you are suicidal, you don't think clearly. You feel so low that you just want to escape into oblivion. You want to forget everything. I forgot about my kids. It was for their sake that I had stood up to my violent first husband.
The love and support of my parents, my faith in Nichiren Buddhism and my medication helped me get back to normal. At this time I met and married a wonderful man, Sujoy Ghosh, who encouraged me to hone my culinary talents. I started my own food brand, Neetu's Kitchen, first as a small eatery in 2005. Now it's a food and events company.
Though I lost my husband four-and-a-half years into our marriage, his love and support helped me become a strong and confident woman. Instead of becoming depressed, I focused on my catering business.
In 2007, I also started a support group for single people struggling with urban loneliness. Now I am a happy, successful entrepreneur who has raised her kids on her own. People who are going through a difficult time should talk to their family or friends. Talk about your depression the way you'd talk about a migraine.
From HT Brunch, February 12, 2017
Follow us on twitter.com/HTBrunch
Connect with us on facebook.com/hindustantimesbrunch
Close Story
Personalise your news feed. Follow trending topics