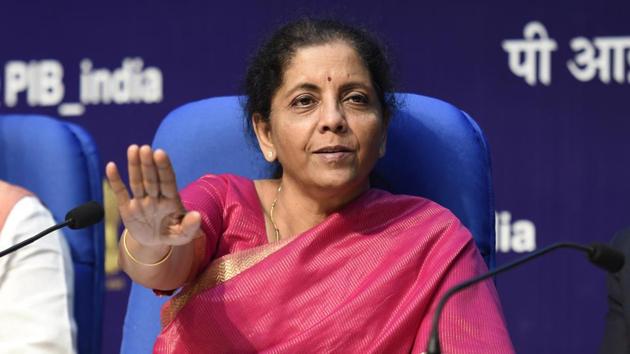 Nirmala Sitharaman counters Chidambaram
Nirmala Sitharaman, in her reply on Budget in the Upper House, hit out at P. Chidamabaram by saying that he had not made like-to-like comparison over income tax and custom duty collections, which perhaps led him to wrong conclusions.
New Delhi | By HT Correspondent
UPDATED ON JUL 12, 2019 11:51 PM IST
Finance minister Nirmala Sitharaman on Friday put up a spirited point-by-point rebuttal of senior Congress leader P Chidambaram's criticism that her first budget wasn't bold enough, and his attempt to downplay the government's target of turning India into a $5 trillion economy in five years.
Chidambaram said on Thursday in the Rajya Sabha that the economy would anyway double to $5 trillion, and it did not require a prime minister or a finance minister to achieve it. "That is the magic of compounding," Chidambaram, a former finance minister, said.
Given the mandate the ruling Bharatiya Janata Party received in the recent general elections, when it won 303 seats in the 543-member Lok Sabha, Sitharaman should have been bolder and put in place structural reforms to boost economic growth, Chidambaram said.
Also read | 'We've given ourselves achievable targets,' says Nirmala Sitharaman
In reply to his comment on the $5 trillion target, a feisty Sitharaman retorted: "If that is the case, why are all of us sitting here? The economy will anyway double."
She also asked whether the Manmohan Singh-led United Progressive Alliance (UPA) government had followed a similar principle and ignored management of the economy, leading to the corruption cases that marred its second term in 2009-2014.
Issues like currency depreciation and inflation require government intervention and management, Sitharaman said. On Chidambaram's observation that the Modi government had not put in place any major structural reforms, the minister listed changes like the Goods and Services Tax and the Insolvency and Bankruptcy Code, measures taken in past years.
In addition, the minister said, the government has taken comprehensive steps to resolve non-performing assets (NPAs) and improve the health of public sector banks. Banks have been recapitalized to the extent of ~3,19,497 crore in the last five years and more steps are being taken to strengthen the banking system, she said.
Replying to the discussion on the budget, Sitharaman also said the big picture presented in the budget was backed by a plan and comprehensive steps that have been envisaged for the next 10 years.
"The budget boosts investments without compromising on fiscal consolidation roadmap. Centre's net tax revenue for 2019-20 is ~16.49 lakh crore, which is up by 11.13% over the previous year," she said.
Underlying fundamental shifts in the rural economy, Sitharaman said farmers no longer have to queue up to "buy a bag of fertilizer". In addition, a liberal minimum support price (MSP) for key commodities has brought relief to the rural sector, she claimed.
Close