GDP growth 6.6% in Q3, slowest in five quarters
The Gross Domestic Product (GDP) at constant prices (2011-12) had grown at 7 per cent in October-December quarter of the previous financial year.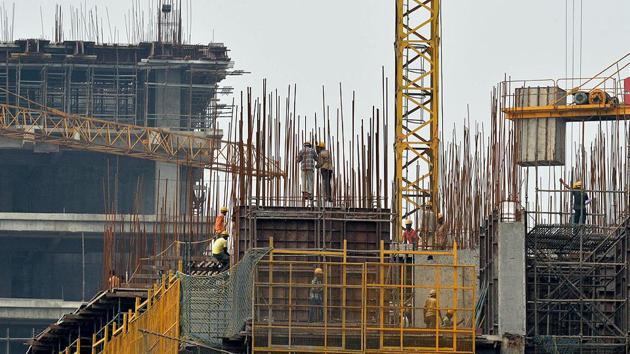 Updated on Feb 28, 2019 11:41 PM IST
New Delhi |
Asit Ranjan Mishra
The Indian economy decelerated at a faster pace than anticipated in the December quarter of 2018-19 to 6.6%—the lowest in five quarters—increasing chances of another round of rate cuts by the Reserve Bank of India (RBI) in April to support growth.
However, the dismal growth print, the last before the general election due by May, is likely to take some sheen away from the economic record of the Narendra Modi government, which is seeking a second term in office.
The Central Statistics Office (CSO) on Thursday also revised downward its full-year growth forecast for the current fiscal year to 7% from the 7.2% estimated earlier.
The data for the first (June) and second (September) quarters were also revised downward to 8% and 7% respectively. Thus, in the March quarter, the economy is implicitly assumed to decelerate to 6.4%.
The size of the Indian economy estimated through nominal gross domestic product (GDP) was revised upward to ₹190.54 lakh crore ($2.7 trillion) against ₹188.41 lakh crore ($2.65 trillion). This will help the government achieve the fiscal deficit target of 3.3% of GDP for 2018-19 as originally estimated in last year's budget against the revised estimate of 3.4%.
While the slowdown in the second half (October-March) of this financial year was expected, CSO now estimates it to be sharper than it earlier estimated. However, most international agencies project India's growth to bounce back in the next fiscal year.
The International Monetary Fund (IMF) last month projected India's growth at 7.5% in 2019-20 amid slower global expansion. Risks to global growth tilt to the downside, with IMF cutting 2019 growth projection by 20 basis points (bps) to 3.5%.
India still remains the fastest growing economy as China's economy cooled in the December quarter to a 28-year low of 6.4%.
The Monetary Policy Committee (MPC) of RBI on February 7 changed its stance from calibrated tightening to neutral and cut the policy rate by 25bps on the back of benign headline retail inflation and slowing global growth. India's retail inflation slowed further to a 19-month low of 2.05% in January while factory output, dragged down by a negative base effect, remained subdued in December, which is expected to open more space for the central bank to cut interest rates.
Former World Bank chief economist Kaushik Basu tweeted: "This growth slowdown is worrying. Its connection to the slowdown in job creation deserves to be analysed quickly and carefully."
During the fiscal year ending March 31, while agriculture growth is projected to sharply slow down to 2.7% from 5% a year ago, manufacturing is estimated to accelerate to 8.1% from 5.9% a year ago.
The labour-intensive construction sector is estimated to pick up pace to grow at 8.9% from 5.6% in the previous year. However, the largest employer in the services sector—trade, hotels and transportation—is set to decelerate to 6.8% from 7.8% a year ago.
Madan Sabnavis, chief economist at Care Ratings Ltd, said the lower growth in GDP could prompt RBI to lower interest rates as economic growth has been cited as a concern. "This would, however, be contingent on the inflation reading for the coming months," he said.
Data released separately by the ministry of commerce and industry on Thursday showed that core sector growth of eight infrastructure industries slowed to a 19-month low in January at 1.8% as electricity generation contracted after a gap of 71 months.
The GDP data showed that private consumption continued to propel economic growth while the earlier estimates of a revival in investment demand seemed unlikely with an almost flat growth in 2018-19 at 10%. In the first advance estimates released in January, investment demand as represented by gross fixed capital formation was estimated at 12.2%.
However, according to the latest data released by RBI on Thursday, non-food bank credit rose by 13.1% in January 2019 as compared to 9.5% in January 2018. Similarly, credit to industry rose by 5.1% in January 2019 as compared with an increase of 1.1% in January 2018.
Close Story