Govt opens coal mining to private firms for commercial use, ends Coal India monopoly
Updated on Feb 20, 2018 11:44 PM IST
Minister for coal and railways, Piyush Goyal, said the reform is expected to bring efficiency in the coal sector by moving from an era of monopoly to competition.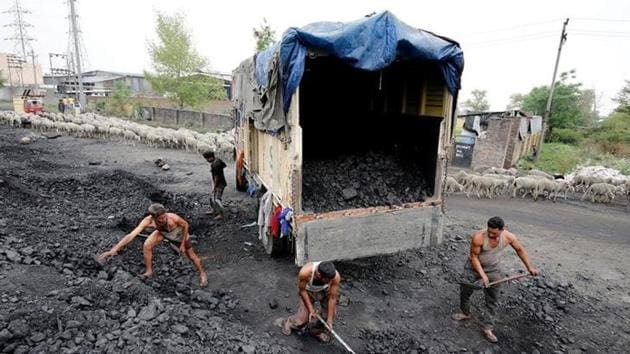 The Union cabinet chaired by Prime Minister Narendra Modi decided on Tuesday to open up the coal sector to commercial mining by private entities. The game-changing move ends state-backed Coal India Ltd's (CIL) monopoly and enables power, cement and steel producers to access fuel more efficiently.
The move is set to usher in competition in coal supply, reduce coal imports, and help stressed power plants to attempt a turnaround through better fuel management.
An official statement described the decision as "the most ambitious coal sector reform since the nationalisation of this sector in 1973".
There will be no end-use restriction as far as output of the auctioned mines are concerned. Under private commercial mining modalities approved by the Cabinet, coal blocks will be allocated by "ascending forward auction" in which the winner will be determined by the price per tonne of coal offered to the state government where the mine is located. "There shall be no restriction on the sale and/or utilization of coal from the coal mine," said the statement.
An enabling provision for commercial coal mining by private players was included in the Coal Mines (Special Provisions) Act, 2015, which the National Democratic Alliance (NDA) government had brought in to replace administrative allocation of coal blocks with auction after the Supreme Court had in 2014 cancelled 204 coal blocks allocated to various state and private companies.
The official statement said the methodology approved by cabinet on Tuesday gives highest priority to transparency, ease of doing business and ensures that natural resources are used for national development. The move is also expected to allow the use of best possible technology in the sector, drive investments and create direct and indirect employment in coal bearing areas, it said.
"This is a game changer across multiple sectors. Power generators can use commercial coal to improve margins or availability, and as merchant prices fall, utilities and manufacturing sector too will benefit from lower energy costs," said Kameswara Rao, partner, PwC India. Rao said that new owners of distressed assets need no longer risk e-auction supplies as commercial coal offers a credible strategy to revive those projects.
The government expects revenue from private commercial mining to help in the development of backward areas, especially in the eastern part of the country.
Meanwhile, the Cabinet Committee on Economic Affairs (CCEA) approved infrastructure projects worth Rs15,700 crore, including railways and national highways.
Personalise your news feed. Follow trending topics