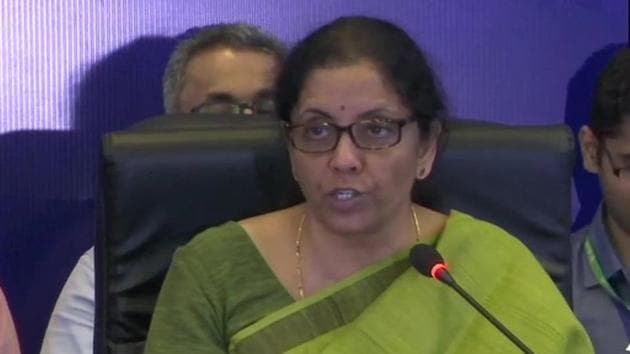 GST Council hikes tax on caffeinated beverages, cuts rates on hotel tariffs
Briefing reporters after a meeting of the panel, Finance Minister Nirmala Sitharaman said the GST on caffeinated beverages has been hiked to 28 per cent plus additional cess of 12 per cent as against the current rate of 18 per cent.
Hindustan Times, Panaji | By Gerard de Souza
UPDATED ON JUL 02, 2020 02:43 PM IST
A meeting of the 37th Goods and Services Tax (GST) Council held in Goa on Friday recommended the slashing of rates on hotel tariffs while hiking the tariff on caffeinated beverages from 18% to 28%.
After a marathon meeting that lasted more than eight hours, Union finance minister Nirmala Sitharaman said that the council meeting was "long, but absolutely productive" and that "everyone was on board" with all the decisions that were taken.
Announcing the reduction in tariffs on hotel rates, the Union finance minister said that it was a "powerful presentation from the minister of the host state (Goa) that resulted in the council going beyond the rate reduction that was initially envisaged."
The GST council agreed to reduce tax from 28% to 18% on hotel room tariffs of Rs 7,500 and above per night and from 18% to 12% on hotel room tariffs between 1001 to 7,500.
Watch | GST Council cut rates for hotel tariffs, hikes tax on caffeinated beverages
"Some of the decisions are those which have been waiting for a long time and let me happily say that here in Goa many of the decisions are driven by the broader principle and I take the example of tourism the decision has been taken keeping the promotion of tourism in mind," Sitharaman said.
The reduction of hotel rates and their rationalisation was one of the primary demands of the hotel industry not just in Goa but across the country.
Also read: Investors become richer by nearly Rs 7 lakh cr in a day on FM's tax booster
"GST rates for hospitality in India are very high as compared to our Asian competitors where they are 6-8%. Indian states lose a significant number of Foreign tourists due to this and will also lose domestic traffic in this segment," the Travel and Tourism Association of Goa, which had lobbied hard for the rate reduction, said.
"We are extremely happy with the reduction in GST. A reduction to 12% would have helped us compete with many other countries but nevertheless we are happy. I am extremely proud that the TTAG lobbied to do what the industry in the entire country could not do for the last one year," President of the Travel and Tourism Association of Goa Savio said in a statement.
The GST panel also decided to hike the GST rate on caffeinated beverages from 18% to 28% and in addition, impose a 12% compensation cess.
"The broader thumb rule of making the economy a lot more vibrant, through better taxation, the simplification of taxation and rationalizations of tax rates have governed this GST council meeting and as a result that we realised that we could have arrived at conclusions on many of these rates," Sitharaman said.
"There has also been a very clear suggestion that GoMs (Group of Ministers) about four of them which are in existence should fairly quickly meet because they have had their meetings delayed for genuine considerations but now the house felt that the GoMs for the respective mandated topics would meet earliest and come to some kind of quick resolution of those issues which are posed to them," Sitharaman added.
The meeting also paid tribute to former Finance Minister Arun Jaitley who passed away recently.
The council stood up for a minute's silence for the immense contribution Jaitley has made. He was the chairman and chaired nearly 35 of the GST council meetings.
Earlier in the day, prior to the commencement of the meeting Sitharaman announced a slew of measures, most prominently the reduction in corporate tax rates from 30% to 25% for domestic companies and from 25% to 15% for new companies.
The move would result in forgone revenue of Rs 1.45 lakh crore.
Close