In Chanda Kochhar case, ED probe points to conflict of interest
Updated on May 18, 2019 08:05 AM IST
HT has reviewed a copy of an internal ED report, which states that CFL was held jointly by Chanda Kochhar and family (60% of shares) and Videocon (24.7% shares) since 2000-01.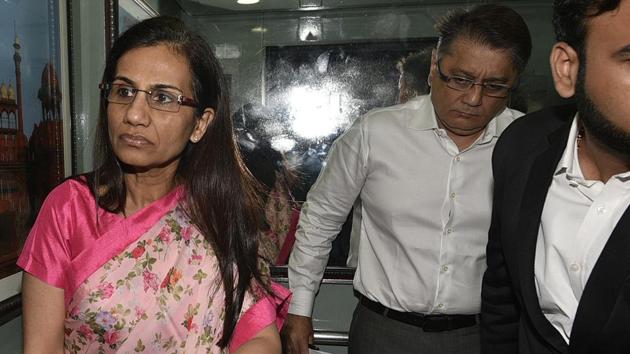 Hindustan Times, New Delhi |
Neeraj Chauhan
An Enforcement Directorate (ED) investigation has revealed that former ICICI Bank managing director and CEO, Chanda Kochhar, already held shares in a private company, Credit Finance Limited (CFL), along with her family members and the Videocon Group when she became the executive director of the bank in April 2001 — a significant conflict of interest. It isn't clear whether this was disclosed to ICICI Bank when Kochhar was named on the board or, indeed, to the Reserve Bank of India when she became CEO.
HT has reviewed a copy of an internal ED report, which states that CFL was held jointly by Chanda Kochhar and family (60% of shares) and Videocon (24.7% shares) since 2000-01. "She became executive director (of ICICI) in April 2001 and also held share of CFL along with other shareholders of the Kochhar group. Her husband Deepak Kochhar was the managing director of CFL till 2009," the report said.
It is this company — earlier named Credential Finance Limited (incorporated in 1992), which was later merged into Bloomfield Builders and Construction Ltd in 1996 and renamed as Credit Finance Limited (CFL) — which bought Flat number 45, CCI Chambers in 1996 and later mortgaged it to Videocon International Limited. The Kochhars lived in this flat since 1997. In fact, ED adds in its report that when CFL defaulted a loan from SBI Home Finance, it was repaid by Videocon.
ED and the Central Bureau of Investigation (CBI) started looking into a possible quid pro quo between Chanda Kochhar and the Videocon Group based on a whistleblower's complaint that ICICI Bank loaned money to Videocon in return for Videocon Group chairman, Venugopal Dhoot, investing in Deepak Kochhar's company. The bank initially cleared Chanda Kochhar of any wrongdoing based on an internal report, but as the investigation deepened, had to ask her to step down.
The ED report terms transactions related to this flat and parties involved in it as "unclean" and "in collusion".
"The transactions relating to the sale and purchase of this apartment to the individuals and CFL and subsequent settlement among the conspirators i.e. CFL and QTAPL (Quality Techno Advisors Pvt Ltd, a Videocon company which had acquired the apartment, which was 100% acquired by a trust of Chanda Kochhar) are subject matter of thorough probe because parties of both sides in holding the title of apartment are unclean and in collusion also", the ED report added.
The report further claimed that during her term as the MD-CEO of ICICI Bank from 2009 till 2018, Chanda Kochhar "is alleged to have not disclosed the directorship details of her husband to ICICI Bank), as per the norms under Banking rules".
Her lawyer, Vijay Aggarwal, declined to comment. ICICI Bank did not respond to an e-mail from HT.
According to Section 184 of the Companies Act, every director of a company (both private and public) should disclose their interest or concern in a third party. Kochhar not disclosing the shares held by her in CFL is also against Reserve Bank of India (RBI) guidelines, two banking experts said.
An ED officer who spoke on condition of anonymity said: "Chanda Kochhar didn't inform the ICICI bank about her shareholding, her husband's business interests and their connection with Videocon while she continued to be on several sanctioning committees of the bank which approved loans for the Videocon group companies."
As first reported by HT, ED has expanded its probe against Kochhars and Videocon group in total 24 loans worth ₹7,862 crore.
The ED has listed 24 companies which were or are run by the Kochhar group.
Chanda and Deepak Kochhar were questioned for the fifth day on Friday.
Personalise your news feed. Follow trending topics