India among top five defence spenders in the world
Hindustan Times, New Delhi |
Rahul Singh and Rezaul H Laskar
May 03, 2018 12:01 AM IST
New Delhi's defense spending rose by 5.5% to $63.9 billion in 2017 and has now passed France, the Stockholm International Peace Research Institute said in a report released Wednesday.
India entered the club of the world's five biggest military spenders in 2017 as the government enhanced the operational capability of its armed forces in the face of tensions with China and Pakistan, according to a report from an influential think tank.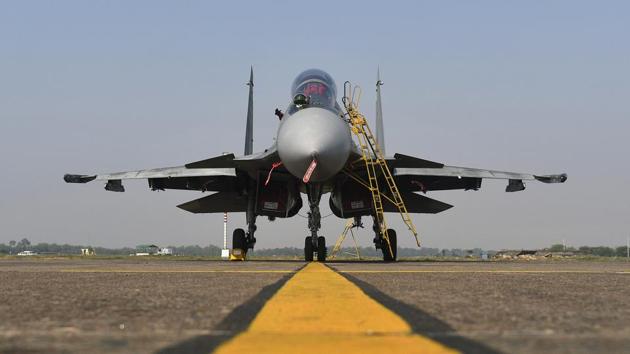 India was in the fifth spot, after the US, China, Saudi Arabia and Russia, and they together accounted for 60% of global military spending, the Stockholm International Peace Research Institute (SIPRI) said in a report on Wednesday. Total global military expenditure rose to $1,739 billion in 2017, a marginal increase of 1.1% in real terms from 2016.
India's defence spending has grown in the past decade for several reasons, including a mounting salary bill for about 1.4 million serving personnel and pensions for more than 2 million veterans, projects worth billions of dollars to induct new combat jets, helicopters, warships, artillery guns and infantry weapons, and to enhance capabilities.
India spent $63.9 billion on defence in 2017, an increase of 5.5% compared with 2016, when it was in the sixth spot overall. Its spending in 2017 was higher than that of France ($57.8 billion), UK ($47.2 billion) and Germany ($44.3 billion).
"Tensions between China and many of its neighbours continue to drive the growth in military spending in Asia," said Siemon Wezeman, senior researcher with SIPRI's arms and military expenditure programme.
China, the second-largest spender globally, increased its defence spending by 5.6% to an estimated $228 billion in 2017. China's spending as a share of global military expenditure rose from 5.8% in 2008 to 13% in 2017. Its spending also accounted for 48% of the Asian total and was 3.6 times that of India.
However, Indian experts cautioned that such reports might not present the complete picture.
"Such figures can be misleading. India is spending a modest amount on defence if the budget is measured against the country's gross domestic product," said Commodore (retired) C Uday Bhaskar, the director of the Society for Policy Studies.
"Our military spending is insufficient given the nature of challenges India has to deal with in its neighbourhood," he added.
A senior officer, who asked not to be named, said: "It's ironical that we figure in the list of top defence spenders and yet do not have sufficient money to power modernisation projects. The allocation for defence pensions is more than the capital expenditure this year."
In March, the Indian Army's vice chief, Lt Gen Sarath Chand, told a parliamentary panel only 14% of the budget goes toward military modernisation while 63% is spent on salaries.
SIPRI noted that India was among six countries in the top 15 military spenders -- the others being China, Turkey, Russia, Saudi Arabia and Australia -- that made large increases of more than 30% in their military spending between 2008 and 2017.
The list of the world's biggest military spenders has remained consistent in recent years, dominated by the US and China, which spent $610 billion and $228 billion respectively in 2017.
SIPRI also noted that the balance of military spending is "clearly shifting" towards Asia, Oceania and the Middle East, driven by spending increases in China, India and Saudi Arabia.
In February, India allocated R2.95 lakh crore for military spending during 2018-19, compared to last year's budget of R2.74 lakh crore. The figure includes R99,563 crore for buying new weapons and systems, up from R86,488 crore in the previous fiscal.
The budget breached the R4-lakh-crore mark after factoring in defence pensions (R1.08 lakh crore). This year, the military budget slipped to just 1.57% of the GDP.
In a report released in March, SIPRI said India was the world's largest weapons importer in the last five years and that arms exported by the US to India during 2013-17 registered a 557% jump when compared to 2008-12.