Investments covered, Baahubali 2 is a gold mine even before release: Experts
Updated on Apr 08, 2017 04:15 PM IST
Baahubali 2 is likely to be released across a record 6,500 screens countrywide in its Hindi, Tamil, Telugu and Malayalam versions.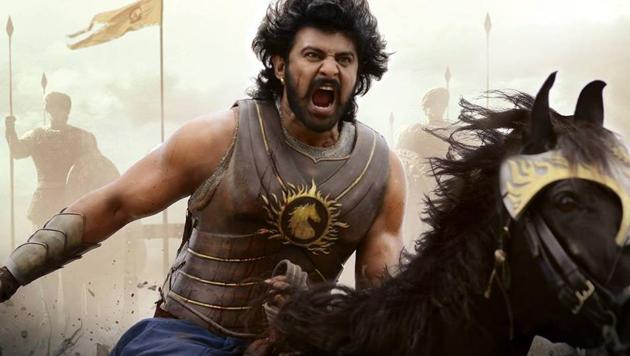 Whether 'Baahubali 2: The Conclusion' will match, if not exceed, the expectations generated by its blockbuster predecessor will only be known when it hits the screens on April 28. Yet, the sequel to the epic fantasy directed by SS Rajamouli has already been declared a gold mine by experts in the movie trade.
"For a film like Baahubali, you just have to announce the release date and it's enough. The first part was universally accepted and has remained one of the biggest successes of Indian cinema," said Atul Mohan, editor of trade magazine Complete Cinema.
Mohan expects Baahubali 2, which cost Rs 250 crore to make, to be released across a record 6,500 screens countrywide in its Hindi, Tamil, Telugu and Malayalam versions. The maximum screen count for a big-ticket Bollywood film remains 4,500.
The first part of Rajamouli's war epic had earned in excess of Rs 500 crore worldwide when it released in 2015. Independent trade analyst Sreedhar Pillai says the new film is easily one of the most profitable film ventures ever even before release. Producer Arka Mediaworks has made Rs 250 crore from selling pan-India distribution rights, and an additional Rs 100 crore will come from the sale of overseas rights for the movie's theatrical release.
With the basic investment already recovered, the Rs 78 crore gained from satellite television rights means the movie has already turned in a profit. This includes Rs 50 crore from the flagship television channel of Sony Pictures Networks for the Hindi version and Rs 28 crore from Star India for the three regional language versions --Tamil, Telugu and Malayalam.
While Sony and Star will also screen the film on their online video streaming platforms Sony LIV and Hotstar, respectively, the producers have retained a portion of the digital rights and are in talks with other platforms.
The Baahubali team that had partnered with character entertainment company Graphic India to take the story beyond movies to original comic books, novels, animation and video games should be able to make about Rs 10 crore from these ventures, says Pillai.
Music rights contribute about 5-10% of a film's revenue today and will, in this case, go to Baahubali's music composer MM Keeravani, who holds the rights as part of his payment.
Most importantly, considering there are no major releases alongside or in the week following the war epic's release, a clear window is ensured for Baahubali 2. Mohan estimates the film to cross the Rs 100-crore mark on its opening day in the four versions put together.
To be sure, local south Indian bodies like the Andhra Pradesh Film Chamber of Commerce place a cap on the marketing and promotional budget of films. Filmmakers, even in the case of tent-pole projects like Baahubali 2, can't go overboard when it comes to publicising a film. According to Utpal Acharya, founder of film production, distribution and marketing company Indian Film Studios, the regional language promotion of the film is likely to cost Rs 3-4 crore while another Rs7-9 crore will go into pushing the franchise in Bollywood.
"On the Hindi front, they have to maximize promotions which is why they have decided to re-release the first instalment of Baahubali on April 7," says Acharya. "That will serve the dual purpose of creating awareness (for the new film) and enabling all those who wanted to revisit the first part before watching the sequel (to do so)."
The Baahubali team also has brand partners like Munch, the chocolate from Nestlé India, biscuit maker Britannia Industries, Chinese handset maker Oppo Mobiles and jewellery house Amrapali.
Saurabh Uboweja, chief executive and chief brand strategist at Brands of Desire, estimates that the 10-12 partners on board would have come in for anything between R20-30 lakh to R2-3 crore each, depending on the level of engagement.
"It's a very aggressive, high-pitched marketing campaign where the message is clear -- to go all out," Uboweja said, adding that the Baahubali team may have spent 20-25% of its total budget on marketing.
As opposed to conventional print advertisements and posters, today anticipation marketing, referring to the creation of curiosity and hype in a way that people are willing to spend on a movie even before its release, is being used strongly by mainstream filmmakers.
And, by and large, it has worked, Uboweja said. "Marketing today is largely driven by social media. That's where you create the buzz. The trailer is a key milestone in the customer journey so the point is to get people to see it, either through Twitter or traditional public relations or social media buzz," he said.
In the case of Baahubali 2, this would include getting influential celebrities to discuss the film on their social media accounts and having a name like Karan Johar back the film in the north Indian market where he has a strong fan base.
Shobu Yarlagadda, co-founder and chief executive officer at Arka Mediaworks, has no doubts whatsoever about the sequel meeting sky-high audience expectations.
"I think the film will not just meet the expectations of the audience but go over and beyond them. I think it'll be a benchmark of sorts for some time in Indian cinema," Yarlagadda said.
Personalise your news feed. Follow trending topics