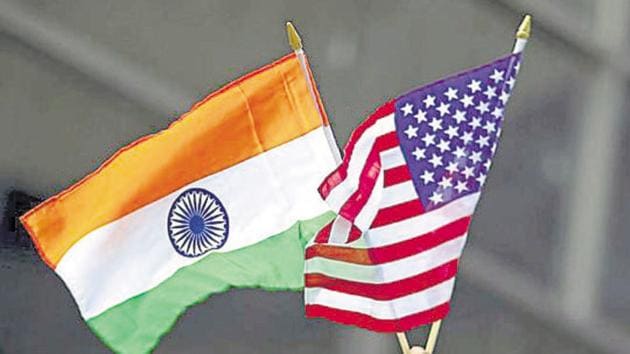 US wants level-playing field for its companies in India: Official
US is also seeking "a level playing field" for American companies in India, Principal Deputy Assistant Secretary for South and Central Asian Affairs Alice Wells told PTI in an interview
Press Trust of India, Washington | By Press Trust of India
UPDATED ON APR 18, 2018 10:03 AM IST
The Trump administration has said it wants to "realise the potential" of the India-US Trade relationship by supporting recent growth in aviation, energy and defence sales.
However, the US is also seeking "a level playing field" for American companies in India, Principal Deputy Assistant Secretary for South and Central Asian Affairs Alice Wells told PTI in an interview.
"While the US-India trade has more than doubled in the last decade, we are continuing to work with India to address market access issues and trade barriers to ensure a level playing field for US companies," Wells said.
"One of our key priorities is to continue our work with the US Trade Representative, the Department of Commerce, and US businesses to realise the potential of our trade relationship by supporting recent growth in aviation, energy, and defence sales, among other areas," she said.
Wells has been running the crucial South and Central Asia Bureau of the State Department for more than a year now in the Trump Administration in the absence of an Assistant Secretary of State.
Noting that the India-US relationship has been on a positive trajectory for years, she exuded confidence that it will continue to develop rapidly.
"As with any major relationship, there will occasionally be areas or issues where we disagree, but the consensus among leaders on both sides is that US-India ties are too important for any one issue to derail. I do think there is more that we can do in the economic space," she said.
Responding to a question on the American leadership raising the issue of tariff barriers of certain commodities – Harley Davidson in particular -- and market access issues, Wells said the Trump administration was trying to promote fair and reciprocal trade with all its trading partners, including India.
"We have frank conversations with India on trade issues, including in our April Trade Policy Forum intercessional," she said.
"For example, we expressed our concern over the recent increases on tariffs on more than 50 line items in the budget, and our conversation on Harley Davidson motorcycles was in the same spirit," she observed.
At the same time there were many positive signs in the India-US trade relationship, she said.
For example, bilateral trade expanded by USD 11 billion last year to more than USD 125 billion, a new record, she added.
"We want to continue to build on that momentum for the benefit of both our countries and economies," the top American diplomat said.
Wells said the US-India ties were strong enough to weather the occasional storm of disagreements over trade and economic issues.
"This is normal—we have trade issues with our closest allies. One of the benefits of our strong relationship with India is that we can conduct conversations about our differences in an open and frank manner. These conversations are ongoing and happen at all levels," Wells said.
"We do look for progress on our trade concerns, but our regular conversations on trade are not standing in the way of our progress in many other areas," she said.
(The story has not been modified from its original version)
Close