We have to reinvent footwear business for the Indian youth: Thomas G Bata
Nov 29, 2016 01:57 AM IST
It was a hectic day for Thomas G Bata. He had just launched a new Bata shoe store in Ambience Mall, located in south Delhi's swish Vasant Kunj area.
It was a hectic day for Thomas G Bata. He had just launched a new Bata shoe store in Ambience Mall, located in south Delhi's swish Vasant Kunj area.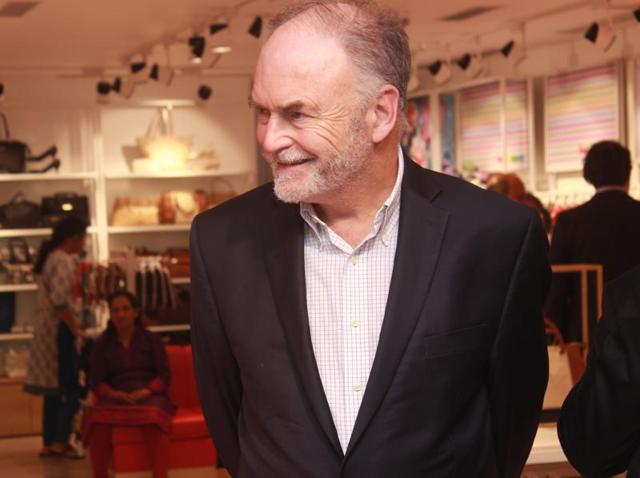 At 9:00 pm on Friday, the day was still not over for Bata, the 67-year-old chairman of Switzerland-headquartered family-owned Bata Shoes. Some journalists, including this writer, were invited for a casual chit-chat with him.
The meeting was supposed to take place at Kylin Premier, a Japanese teppanyaki cuisine restaurant in the mall — one of the best in the city. The lights were soothing, soft jazz music played in the background and the gold decorations made the ambience elaborate.
The journalists were waiting in one corner. Bata was on the other, huddled with his India team. He was taking stock of how the launch went. He ordered for a glass of white wine. "My throat is parched," he told one of his teammates.
After quickly wrapping the discussion with the team, he walked across the restaurant with the glass of wine in his hand, towards the journalists. "Why don't you tell me what are we doing wrong and how can we improve things," he asked.
His humility was obvious. Bata has been around for 90 years in India, and has become synonymous with good quality leather shoes. But lately it is slowly losing its charm as other brands have flooded the market, leaving little room for Bata to improvise.
Bata knew all of this.
Wait! Wasn't this a lifestyle event, a store launch, and Bata Shoes' public relations agency had said that he won't answer any business-related questions. But Bata seemed to be in a different mood.
While Bata wants to transform his business globally, India is where he wants to start. "It's our largest and one of our oldest markets… We sell five crore pairs every year in India," he said.
He is not wrong — many, including the writer's father, think Bata is an Indian company.
But, lifestyle? That's something that has evaded the brand for a long time, as youngsters have taken a liking to other more trendy companies such as Adidas and Nike.
"We have to reinvent the business," Bata said.
The glass was still half full when got busy talking. The passion of the brand still showed.
The company was started by Bata's grandfather, who shared the same first name (Thomas), minus the 'h'. Bata's father was also Thomas, his son is also called Thomas. "I was travelling when my son was born. Initially, my folks called his baby Bata, and soon enough, even before I had reached home, he was also named Thomas," Bata said.
Thankfully, the son has a different middle name, Archer.
Same names have a flipside. Love letters that came for Bata, often addressed to Thomas Bata, was received by his father. Bata burst out laughing, and that he does quite often, while narrating the embarrassment he faced when he was young.
Same names, family heritage, and allowing the company to be run by someone — has built a century-old legacy in the Bata house. (Grandfarther Tomáš Bat'a, started the business in the small town, Zlín in erstwhile Czechoslovakia.)
But the legacy, too, has its flipside. At times, like in Bata Shoes' case, it has made the company old, lethargic, averse to change, and kept it away from the success of other more fashionable brands.
Bata said he wants to change all of that. The beginning will be with becoming a more internet-savvy brand. "We all live with the internet — people are selling shoes on the internet," he said.
He is also bringing onboard new designers, opening new stores and expanding its presence in the countries it is already present in.
A few years ago it launched Marie Claire, a collection of women footwear. It also has a premium brand called Hush Puppies. Some of the other brands are Sandak, Sparx, Scholl, Mocassino, Ambassador, Bata Comfit and Eva-lite.
"While these brands will continue, new brands will be launched to cater to the youth, who are looking for trendy and stylish footwear. The average price of the Bata shoes will increase a bit," Bata said.
Even while talking about the future of Bata, he doesn't forget to narrate a childhood incident. When he was 12, on his first visit to India with his father, he met then Prime Minister Jawaharlal Nehru, who pinched his cheeks, gave him a hug and a sweet with varq (silver foil). A picture of Bata and Nehru still sits in his office back home.
It is already well past dinner time. While some of Bata's stories are funny and others inspiring, it will be sad if he is unable to resurrect the brand from here. He is confident that he, along with his son and daughter, will be able to, though.
His wine is not yet over. He leaves the half-finished glass on the table. His team and the journalists slowly leave the restaurant, but Bata's job is still half done. At 67, he is waiting for a new beginning.
Read | Steps of change: Iconic footwear brand Bata heads for a makeover to lure youth