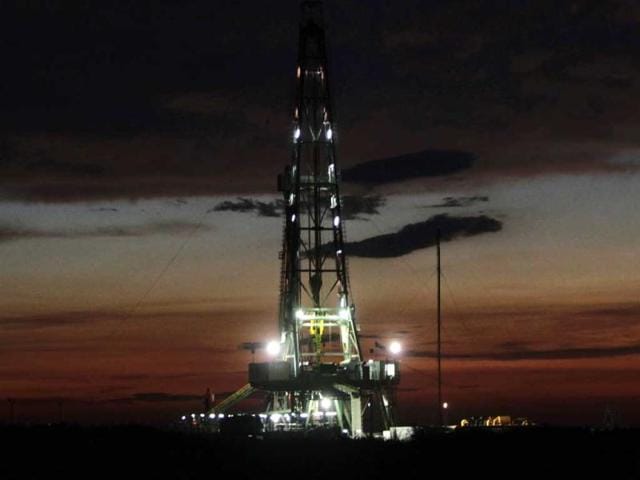 Brent above $124 on Greece hopes, US jobs data
Brent crude rose today, with prices staying above $124 a barrel on hopes that Greece would win enough creditor support to avoid a messy default and promising jobs data from top oil consumer, the United States.
UPDATED ON MAR 08, 2012 11:08 AM IST
Brent crude rose on Thursday, with prices staying above $124 a barrel on hopes that Greece would win enough creditor support to avoid a messy default and promising jobs data from top oil consumer, the United States.


Oil recovered from Tuesday's losses after major banks and pension funds showed their support for Greece's bond swap offer to private creditors, spurring optimism that the deal will pass and clear the way for a bailout package to avert an immediate default on its debt.
Front-month Brent climbed 16 cents to $124.28 a barrel by 0506 GMT, after settling $2.14 higher at $124.12 in the previous session. US crude was up 28 cents at $106.44 a barrel, after settling $1.46 higher at $106.16.
"There are still a lot of uncertainties on Greece ahead of today's deadline and the market is poised to move sharply up or down depending on what happens," said Ken Hasegawa, a Tokyo-based commodity sales manager at Newedge Japan.
"It's a very difficult situation to bet on either side and there is a possibility that the oil price movement will be larger than what we have seen over the last few days," he said, adding that the swing either way could be $2-3, depending on the Greece outcome.
Greece has set a Thursday 2000 GMT deadline for investors to sign up to a debt restructuring designed to trim 100 billion euros off the country's public debt.
A lingering fear concerning Greece's upcoming elections in April is, however, unsettling investors, wrote Ben Taylor, a sales trader at CMC Markets in a note on Thursday.
"Many traders point to the Greek elections as the real challenge to stability as neither of its two major parties appears to be able to ensure a majority," he said.
News that Japan's economy shrank less than initially estimated in the fourth quarter, as companies ramped up spending, also supported oil prices. The revision to GDP showed a 0.2% contraction as companies look to an increase in demand due to reconstruction of the country's tsunami-battered northeast coast.
In the United States, data showed an accelerated pace of job creation in the private sector in February, raising optimism about Friday's government employment report for that month.
The private sector added 216,000 jobs last month, according to the ADP National Employment Report, topping economists' expectations for a gain of 208,000, and raising hopes the labour market recovery was moving at a faster clip.
On Friday, the US government will issue a more comprehensive private and public sector employment data for February. Economists polled by Reuters expect a gain of 210,000 in nonfarm payrolls, with a rise in the private sector of 225,000 jobs offseting a modest dip in government jobs.
US oil stocks
US government inventory data showed domestic crude stocks rose 832,0000 barrels last week, in line with forecasts, but stocks at the Cushing, Oklahoma, delivery hub surged to the highest level in eight months.
Distillate stocks, which include heating oil and diesel fuel, as well as gasoline stocks, both fell, the data showed. That helped pull up heating oil and gasoline futures and added support to crude, analysts said.
Tensions over Iran's nuclear program, which have driven oil prices, persisted.
France on Wednesday voiced scepticism that a revival of talks between six world powers and Iran would succeed, saying Tehran did not seem sincerely willing to negotiate about the future of its nuclear program.
Demand is set to increase as Royal Dutch Shell looks for alternative crude when its deliveries of Iranian oil under outstanding contracts comes to an end within weeks.
The company has said it would stop buying Iranian crude to comply with Western sanctions against Tehran.
Close