Modi calls for targeted subsidies, questions corporate tax breaks
Prime Minister Narendra Modi on Friday called for targeted subsidies and reforms that transform the lives of the poor, and questioned tax incentives for corporates.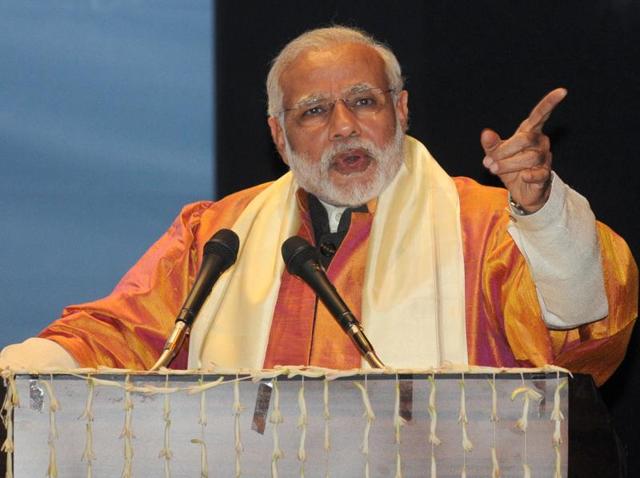 Updated on Feb 16, 2016 03:42 PM IST
Prime Minister Narendra Modi on Friday called for targeted subsidies and reforms that transform the lives of the poor, and questioned tax incentives for corporates, barely a month before the government presents the budget for 2016-17.
"Why is it that subsidies going to the well-off are portrayed in a positive manner? Let me give you an example. The total revenue loss from incentives to corporate tax payers was over Rs 62,000 crore," the PM said at an event in the Capital.
He also took a dig at experts for seeking an overhaul of India's subsidy regime while remaining silent on incentives for the well-off that often distort the tax system.
"Dividends and long-term capital gains on shares traded in stock exchanges are totally exempt from income tax even though it is not the poor who earn them. Since it is exempt, it is not even counted in the `62,000 crore," he said.
Modi's comments marked a departure from the usual practice of top government functionaries who avoid commenting on specific tax-related issues weeks ahead of the budget.
Companies sometimes exploit bilateral treaties to avoid paying taxes, he said. "Double taxation avoidance treaties have in some cases resulted in double non-taxation. This also is not counted in the `62,000 crore. Yet, these are rarely referred to by those seeking reduction of subsidies. Perhaps, these are seen as incentives for investment. If the fertiliser subsidy were to be re-named 'incentive for agricultural production', I wonder if some experts might view it differently," he said.
Finance minister Arun Jaitley had in his budget speech last February said the government would reduce corporate tax rate to 25% over the next four years from the present 30%. But this would be accompanied by a corresponding phase-out of tax exemptions and deductions, which would bring more clarity to the tax regime, he'd said.
In November, the government had laid down a comprehensive road map for phasing out corporate tax exemptions over the next two years as it looked to reduce the tax rate, simplify administration and improve India's competitive edge globally.
The move could hurt companies that have been benefiting from these exemptions for years, at least in the short to medium term.
"I must confess I am surprised by the way words are used by experts on this matter. When a benefit is given to farmers or to the poor, experts and government officers normally call it a subsidy. However, I find that if a benefit is given to industry or commerce, it is usually an 'incentive' or a 'subvention'," Modi said.
The PM said "there cannot be any ideological position on such matters".
"We have to be pragmatic. We have to eliminate bad subsidies, whether or not they are called subsidies. But some subsidies may be necessary to protect the poor and the needy and give them a fair chance to succeed. Hence, my aim is not to eliminate subsidies but to rationalize and target them," he said.
"True reforms are those which result in transformation in the lives of citizens."
In an indiscreet reference to Opposition tactics to block proceedings in Parliament, the PM spoke about the 758 obsolete laws awaiting passage in the upper House, thrice using the term "upper House".
Close Story
Personalise your news feed. Follow trending topics