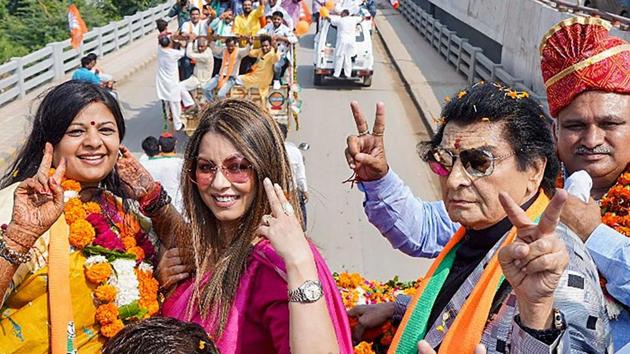 PM, Sehwag, BJP star MPs canvas in Haryana
Over 1.83 crore electors to decide the fate of 1,169 candidates tomorrow; results on October 24
UPDATED ON OCT 20, 2019 02:40 AM IST
Canvassing for the 90 assembly seats in Haryana ended on Saturday, with Prime Minister Narendra Modi holding two poll rallies at Sirsa and Rewari, and former cricketer Virender Sehwag addressing a rally in support of Congress' Badhra candidate.
Modi slammed Pakistan on Saturday for conspiring to push drugs into India to "destroy" the country's youth and called for tackling the problem of drug abuse with an iron hand.
Without naming anyone, he also hit out at the Indian National Lok Dal (INLD) and its breakaway Jannayak Janta Party (JJP), alleging that the Chautala clan was fighting over the distribution of "ill-gotten" money, and asked people to defeat those who "looted" Haryana in the October 21 Assembly polls. Senior INLD leader Abhay Chautala is contesting the election from Ellenabad in Sirsa, which is considered to be a citadel of the Chautalas.
Addressing a rally for mother Naina Chautala, Jannayak Janata Party's chief Dushyant Chautala, who is also the Hisar MP, said his party was locked in a triangular contest on 65 seats and hoped that they will return to power. "The BJP is contesting on national issues like Balakot air strike, abrogation of article 370 from Jammu and Kashmir and induction of Rafale jet while it is mum on local issues. Farmers are in distress, youths are jobless and economy is crumbling while BJP leaders are not speaking a single word on these issues," he said.
Addressing a rally in Haryana's Badhra assembly segment, Sehwag said Congress candidate Ranbir Mahindra had helped him and many other youngsters to play for Haryana and India. "His father late Bansi Lal, former Haryana chief minister had carried out many development projects in the state and he is following footsteps of his father," he said.
The BJP's Gurdaspur MP Sunny Deol and Mathura MP Hema Malini campaigned for party candidates in Badli, Uchana Kalan and Dadri.
Close