MC starts fining litterbugs at Sukhna Lake
While street vendors have to pay up
₹
500 for littering, visitors, eateries and other shops will have to cough up
₹
10,000.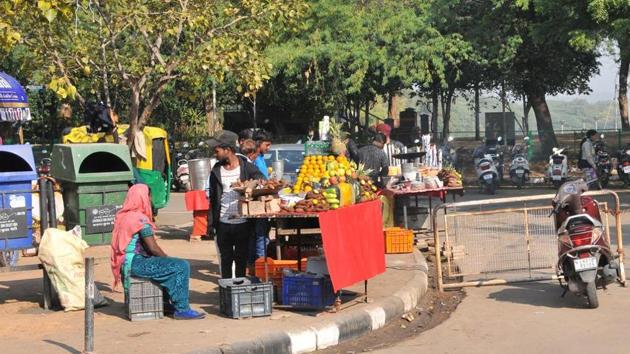 Updated on Apr 20, 2019 10:18 PM IST
Nearly a month after the UT administration notified the waste management bylaws, the Chandigarh municipal corporation has started challaning street vendors for littering at Sukhna Lake, one of the city's most-visited tourist spot. Even visitors will face penalty from next week, said officials.
Nearly 5,000 people, including walkers and tourists, visit the lake daily. Recently many non-government organisations came forward to clean the area, putting pressure on the MC to start the challan drive and deploy additional sanitation staff.
Medical health officer Dr Amrit Warring said while special sanitation team of 10 workers has been deployed permanently, 12 challans were issued to vendors on the first day of the drive on Friday for not disposing of the waste properly around their kiosks.
Two tourists, too, were caught littering, but let off with a small penalty.
"But we will not spare anyone from next week and impose maximum penalty on anyone found littering," said Warring.
While street vendors have to pay up ₹500 for littering, visitors, eateries and other shops will have to cough up ₹10,000.
Warring said posters have already been put up informing the public about the MC's drive. "More such posters will be visible in days to come not only at the lake but other tourist spots, such as Rock Garden, as well," he said.
The health officer said the MC has deployed enough garbage bins for the convenience of visitors at the lake.
"More bins are being added. Location of a few bins are also been changed. There is no reason for people to still litter and create nuisance," he said.
Writes to CITCO
The MC has also written to Chandigarh Industrial and Tourism Development Corporation (CITCO) to maintain cleanliness around the cafeteria being run by it at Sukhna Lake
Warring said, according to rules, eateries must ensure all waste being generated by them is properly stored within the premises and is not thrown outside. Any violation will be considered littering and penalised accordingly.
Paveela Bali, who is the convener of a social group working for cleaning the lake, said things will not improve till the time enforcement is regular and covers everyone, including shopkeepers, vendors and tourists. "The MC can also appoint volunteers to help them in their challan drive," she said.
Since the notification, the MC has issued 250 challans across the city, of which around 50% carried ₹10,000 penalty. Most of these challans have been issued to eateries in commercial areas.
Sec-42 society fined for burning leaves
The Chandigarh municipal corporation on Saturday also challaned SBI Society, Sector 42, for burning leaves inside its premises.
Warring said the colony comprising 500 flats has its own sanitation staff. "But they were caught burning leaves. Fire brigade was also called to douse the flames," he said.
At present, ₹5,000 fine has been imposed on the society. "We are exploring the possibility of imposing penalty for littering too," said Warring.
Close Story