Liquor being smuggled to poll-bound Gujarat from MP villages: Excise officials
Shruti Tomar and CB Singh
Nov 24, 2022 06:00 PM IST
According to Madhya Pradesh excise officials familiar with liquor sales in the state, the phenomenon is spread across Jhabua and Alirajpur districts near the Gujarat border
A 250 square feet liquor shop in Battha village in Madhya Pradesh's Jhabua district has been witnessing a high sale of liquor in the past few weeks and so is many other liquor shops in villages bordering Gujarat.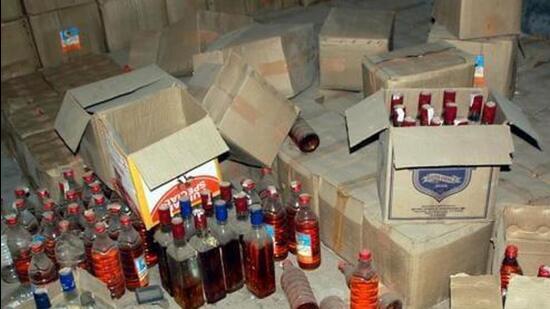 According to district officials, the liquor is being supplied to neighbouring Gujarat which is witnessing a high-pitch electoral battle.
Stay tuned with breaking news on HT Channel on Facebook.
Join Now
In the last month or so, everyday liquor sale, as per district excise officials, amounts to every person in a village consuming liquor worth ₹500 every day which is not possible as the village people mostly consume locally brewed liquor and as per Jhabua district records, around 90% of the population fall below the poverty line (BPL).
Also Read: Priyanka Gandhi, her son, husband join Bharat Jodo Yatra
"Liquor is being supplied to Gujarat from these shops for the past so many years but during the election year, the rate and the supply increases," Battha Sarpanch Suresh Damor said. "Our is the village of poor people and they cannot afford to spend ₹500 every day on liquor," Damor added.
According to Madhya Pradesh excise officials familiar with liquor sales in the state, the phenomenon is spread across Jhabua and Alirajpur districts near the Gujarat border.
72% population of these two tribal-dominated districts fall under BPL with families having a monthly income of less than ₹1,000, as per the central government data.
According to a NITI Aayog report on the multidimensional poverty index, 71.31% population of Alirajpur and 68.66% of Jhabua is poor.
From the poorest districts of Madhya Pradesh, the revenue from the auction of liquor shops was higher than the rest of the state. "The average revenue increase was 15% for the current financial year as compared to last. In the rest of the state, it was a mere 10%," said a senior excise department official.
Sejawada village sarpanch Manudi Pemla, said, "The liquor shop owners are minting money in the name of poor tribals, who mainly consume Mahua and Tadi (local alcohol). The liquor is being supplied to Gujarat through narrow lanes of villages."
"In the past two months, we have seen so many trucks going to Gujarat filled with liquor. We have decided to help the police and excise to catch the liquor mafia. The shops in the border areas have a major role in supplying liquor to dry state," said Bheel Sena president Bharat Bhuria who caught an SUV going to Gujarat from Ranapur in Jhabua on November 3.
Jhabua district panchayat president and Bharatiya Janata Party (BJP) leader Daulat Bhawsar said, "The liquor contractor from Gujarat and Madhya Pradesh are running this nexus."
Umesh Nayak, a liquor shop owner in the district countered the claims saying that if there was any irregularity, the state government would have cancelled our license.
"The tribals consume liquor in good quantity," he said, claiming that tribals spend half of their daily earnings on liquor and the other half on food. "They don't have a concept of saving money," he added.
On Wednesday, Madhya Pradesh commercial tax department directed collectors of Jhabua and Alirajpur to declare dry days from December 1 and 5 and on December 8 amid the elections in Gujarat and Himachal.
Election officers from Gujarat met their counterparts in these districts and highlighted the issue of liquor smuggling.
According to Gujarat's Chief Electoral Officer, the police have seized liquor worth ₹10.27 crore in the state since November 3, when the elections were announced.