Avalanche hits Bandipora; fresh snow, rains lash J&K
Published on Jan 23, 2023 04:57 AM IST
The meteorological department, which had earlier predicted intermittent snowfall and rainfall for seven days from January 19, extended the forecast of wet and erratic weather till January 29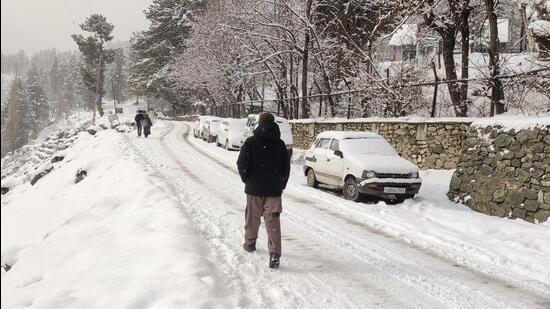 Jammu and Kashmir witnessed a fresh spell of snow and rain, which also triggered an avalanche in north Kashmir's Bandipora district on Sunday.
The meteorological department, which had earlier predicted intermittent snowfall and rainfall for seven days from January 19, extended the forecast of wet and erratic weather till January 29.
Officials said there was an avalanche in Tulail area of Gurez in Bandipora, but there were no reports of damage to life and property.
J&K's state disaster management authority(SDMA) has issued a low to medium avalanche danger warning for eight districts, including Bandipora, Kupwara, Baramulla and Ganderbal.
Traffic disrupted on Jammu-Srinagar highway
The traffic movement on Jammu-Srinagar highway was suspended for some time on Sunday afternoon due to damage near Dawal bridge in Udhampur. However one-way traffic was allowed later.
"Traffic restored on Jammu-Srinagar NH (single way) near Dawal bridge, Udhampur," traffic department said in a tweet.
MeT deputy director Mukhtar Ahmad said light snowfall or rainfall may continue on Monday while there is forecast of moderate to heavy snowfall over middle and higher reaches and rains in Jammu on January 24 and 25 and at isolated places up to January 27.
The minimum temperatures in Srinagar climbed above zero to 1°C on Sunday night from the previous night's 0.2°C.
The MeT update said that Pahalgam witnessed -6.3°C, while it was -6.8°C in Gulmarg.
Jammu division's three of six weather stations -- Bhaderwah, Batote and Banihal -- witnessed low temperatures of 1.4°C, 0.7°C and 1°C, respectively. Jammu city witnessed 7.1°C while it was 6°C in Kathua.
Indian Meteorological Department (IMD) on Sunday also issued a forecast of enhanced rain and snow activity over western Himalayan region, including Jammu and Kashmir, and northwest India between January 24 and 26.
A fresh western disturbance is likely to affect northwest India from January 27.
Avalanche warning issued in four districts of Himachal
Snow and Avalanche Study Establishment (SASE) in Manali on Sunday said avalanche(s) may occur in Kullu, Lahaul-Spiti, Chamba's Pangi area and Kinnaur in Himachal Pradesh.
As per the warning, in Kullu district, avalanche may strike at Nehru Kund, Kulang, Palchan, Kothi, Rohtang Pass, Solang nullah, Dhundhi, Beas Kund, Atal Tunnel's south portal as well as higher reaches of Banjar and Ani subdivisions.
Koksar, Sissu, Tandi, Darcha, Sarchu, Udaipur, Kirting, Chhatru, Batal, and Losar are also prone to avalanches.
As many as 223 roads, including three highways, across HP are still blocked for traffic.
Maximum 162 roads are blocked in Lahaul-Spiti, 30 in Kullu, 10 in Mandi and nine in Shimla districts, said director HP SDMA Sudesh Kumar Mokhta.
Lahaul-Spiti SP Manav Verma said that Manali-Leh highway is open till Darcha for four-wheel drive vehicles with chains. Udaipur-Killar road is also open for local four-wheel drive vehicles with chains.
Kaza road (NH-505) is closed from Graphu till Kaza while stretch between Sumdo and Losar is open for four-wheel drive vehicles.
Director of MeT department's Shimla centre, Surender Paul, said a yellow warning for thunderstorm, lightening and hailstorm on Monday and heavy snowfall and rainfall on Tuesday has been issued.
There is no respite from the cold wave in HP even as sun shone bright in most parts on Sunday. Keylong was the coldest with night temperature recorded at -9.6 degrees, followed by Kukumseri (-7.4 degrees) and Kalpa (-4.8 degrees).
Reckong Peo shivered at -1.9 degrees, while famous tourist resort of Manali saw a low of -1.8 degrees. Narkanda witnessed -0.8 degrees, Kufri 0.2 degrees, Dalhousie 1.5 degrees and Shimla 2.8 degrees.
(With inputs from Dharamshala)