Ludhiana | Close shave for labourer as fire breaks out in cardboard factory
It was a close shave for the cardboard factory worker as the fire broke out on the first floor of the building, and he was able to exit the building in time; four fire tenders were dispatched to douse the flames on the unit at Daba Road in Ludhiana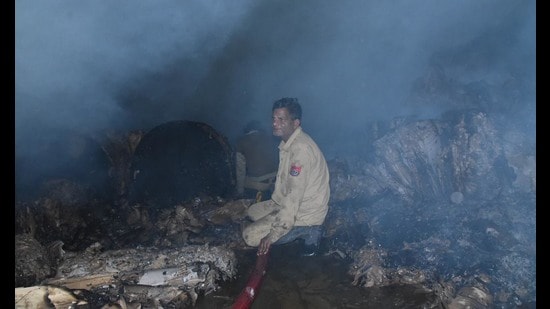 Published on Dec 02, 2021 03:10 AM IST
A major fire broke out at a cardboard factory on Daba Road, opposite Arora Palace, on Tuesday night. It took firefighters around six hours to douse the flames.
It was a close shave for a worker, who was on the ground floor of the unit, as the fire broke out on the first floor of the building, and he was able to exit the building in time. Four fire tenders were dispatched for the firefighting operation.
Factory owner Sushil Goyal, who was at his house at the time of the incident, said it is suspected that the fire broke out around half-an-hour before neighbours sounded the alert at around 8.45pm. "The worker who was downstairs was unaware of the blaze that had started on the first floor of the building. Neighbours spotted the flames, and called the fire brigade."
Goyal, who suspects a loss of ₹10-12 lakh, says, "It was fortunate that no casualties were reported."
Panic gripped neighbouring units after the blaze broke out, as the factory stands on a congested street, and a large number of people gathered at the spot. The reason for the fire is yet to be determined.
Leading fireman, Vijay, said, "Our fire tenders had to be refilled over 25 times to douse the flames. The operation continued till around 3am on Wednesday."
Close Story
Personalise your news feed. Follow trending topics