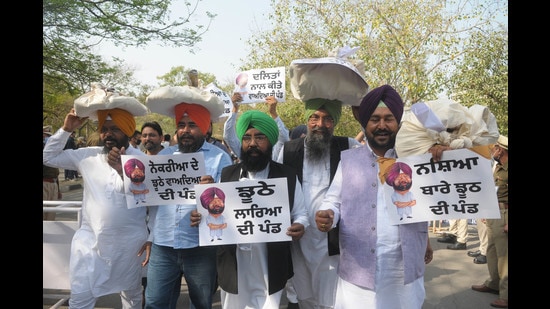 Opposition tears into Punjab budget, calls it bundle of lies
Finance minister Manpreet Singh Badal is painting a rosy picture but the reality is that the state's debt is mounting, says ex-FM Parminder Dhindsa
PUBLISHED ON MAR 10, 2021 01:33 AM IST
The Opposition on Tuesday trashed the Budget presented by the Congress-led Punjab government, claiming it to be a bundle of lies.
During a discussion over the proposals presented by finance minister (FM) Manpreet Badal, rebel SAD MLA Parminder Dhindsa, who held the same portfolio in the previous SAD-BJP regime, said these were in total contradiction to what was preached by the FM.
"The reality is that Punjab's state of finance is most unstable ever. The state's debt during 2020-21 was ₹44,177 crore, whereas for the next fiscal year, the budget estimates debt amounting to ₹37,187 crore. I am sure this figure will go up as the government would not be left with the money to fund the schemes they have announced. There is no vision as to where would the ₹9,000 crore announced for pay commission come from," said Dhindsa.
He reminded that during Manpreet's first budget speech in 2017, the latter had claimed that he would present a surplus budget in the fifth year.
"The FM also claimed that had there been no Covid-19, Punjab's budget would have been surplus this year. This is a blatant lie. Punjab got financial relief due to the pandemic be it the increase in borrowing limits from 3% to 5% by the Centre or getting additional GST returns," said the rebel Akali legislator.
He said Punjab's revenue deficit has been increasing every year and on the other hand, revenue receipts of the state are decreasing. "But our FM is still showing a rosy picture of the state finances which is an utter lie. Our spending on the social sectors is decreasing and higher education and health departments are not being given their due share. What are we heading for?" asked the former finance minister.
AAP's Aman Arora also launched a scathing attack on the state government saying that among all the states, Punjab was on the top of paying the maximum portions of earnings in the form of repayment of debt.
"Punjab pays 84% of the earning in the form of repayment to loan whereas our nearest rival is Mizoram which pays 46% of earnings as loan repayment. Now, by taking more debt, what would be left to spend on development," questioned Arora.
State's finance has become such that instead of calling it a treasury, it should be named an empty vessel, quipped the AAP MLA. AAP's Ropar MLA Amarjeet Sandoa also criticised the government.
However, Harpartap Ajnala and Madan Lal Jalalpur of Congress termed it a progressive budget, while ruling party's MLA from Amargarh, Surjit Singh Dhiman, raised doubts about a few schemes of the government and said people were not fully satisfied on certain issues like curtailing drug and mining mafia. He, however, hailed the budget overall.
Close