Plastic kite string menace in Ludhiana: 4-year-old boy gets 120 stitches on face
Jan 14, 2023 11:34 PM IST
A four-year-old boy received 120 stitches after a banned plastic kite string got stuck to his face near Neelon on Friday; the boy, Harjot Singh, has undergone surgery and his condition is reportedly serious
A four-year-old boy received 120 stitches after a banned plastic kite string got stuck to his face near Neelon on Friday. The boy, Harjot Singh, has undergone surgery and his condition is reportedly serious.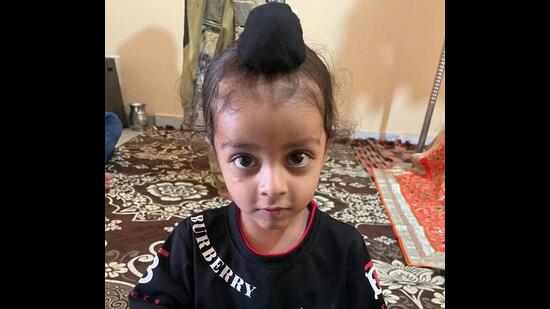 Harjot's father, Vikramjit Singh of Samrala, said they were returning home from Gurudwara Shri Katana Sahib, when his son stuck his head out of the car near Neelon Canal Bridge to watch kites in the sky on the occasion of Lohri.
"All of a sudden, a plastic kite string got stuck to his face and caused severe cuts. I stopped the car on the road side and tried to remove the string. We rushed him to a private hospital on Chandigarh Road, from where he was referred to Dayanand Medical College and Hospital," he added.
"He has sustained 120 stitches on his face. He underwent surgery and the doctors stated that he might have to undergo another surgery," he added.
Vikramjit sought stern action against people selling and using banned plastic kite string.
Deputy superintendent of police (DSP, Samrala) Waryam Singh said police are trying to trace those flying kites with banned kite string near the highway. Samrala police have initiated the process of lodging an FIR and asked the child's parents to record their statement.
Past cases
On January 11, a seven-year-old boy was electrocuted to death and his friend, who came to his rescue, sustained injuries after banned string got entangled to high voltage power supply cables in Baddowal.
On January 8, a restaurant owner suffered severe injuries after the banned string got entangled around his hands and head in Jagraon. He sustained 45 stitches to the forehead and 11 to the hand.
.