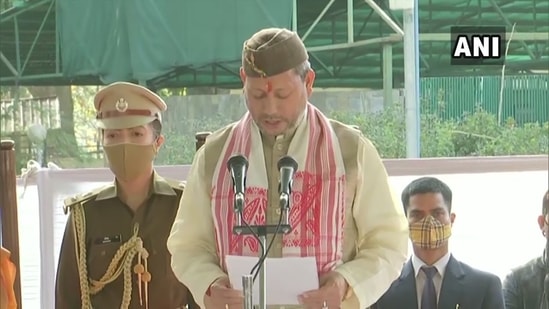 Tirath Rawat emerges as BJP's surprise selection for CM post in Uttarakhand
A senior cabinet minister said they never expected Rawat to emerge as the chief ministerial candidate till Tuesday night
UPDATED ON MAR 10, 2021 05:04 PM IST
The BJP leadership on Wednesday morning named Pauri Garhwal MP Tirath Singh Rawat as the new chief minister of Uttarakhand, ending the buzz around the likes of cabinet minister Dhan Singh Rawat, former CM and Union education minister Ramesh Pokhriyal Nishank and Rajya Sabha member Anil Baluni.
The decision however, surprised many including state leaders and ministers as till Tuesday night nobody thought about Tirath's name for the post until the BJP legislature party meeting on Wednesday morning, presided over by party's central observers including former Chhattisgarh CM Raman Singh and state unit in-charge Dushyant Kumar Gautam.
"With the names of Dhan Singh, Nishank and Baluni making the rounds since the last few days, nobody in the party expected that MP Tirath would be named for the CM post," said a party MLA on condition of anonymity.
He said, "We all were surprised when his name was announced as it was the decision of party central leadership."
Another party leader and a senior cabinet minister said they never expected Rawat to emerge as the chief ministerial candidate till Tuesday night. "Dhan Singh and Central minister Nishank" were among the top two candidates.
"Dhan Singh was seen as a balancing act being a Thakur from Garhwal division as the party state president is a Brahmin from Kumaon division. Also, he is a close aide of Trivendra Singh Rawat. On the other hand, former CM Nishank was strongly lobbying for the post since the last three days. His aides in Haridwar were in Dehradun projecting Nishank as the new CM," said the minister.
He however, added that despite running ahead in the race, both Dhan Singh and Nishank's names had some constraints.
"Dhan Singh would not have been accepted by other leaders as he is a junior among the major party leaders and his closeness to Trivendra Singh Rawat would have again created a problem among other senior leaders, who don't have a good equation with the outgoing CM. On the other hand, Nishank would have also faced opposition within party, as he too doesn't have good equation with many senior leaders," said the minister, adding, "Tirath is a non-controversial person and rose in the state politics after starting as an RSS member, which went in his favour."
State school education minister Arvind Pandey, who was present in the legislature party meeting on Wednesday morning, said Tirath's name was proposed by Trivendra Singh Rawat.
"It was Trivendra Singh Rawat who proposed his name in the meeting which was supported by all. In BJP, organisation is always big and not any leader. Today's decision made this fact evident," said Pandey.
Also Read: Tirath Singh Rawat sworn-in as Uttarakhand CM, to be in office for nearly a year
The Opposition Congress, however, attacked the BJP by saying that the change in leadership "confirmed that four years of this government were a complete failure."
Leader of Opposition, Indira Hridayesh said, "Since the last four years, we have been saying that this government is anti-development and a complete failure. Now, our claim has been confirmed by the BJP high command which changed the CM."
"However, nothing will happen with this change as the public has decided to throw BJP out of power in 2022," she said.
Topics
Close