Uttarakhand police to enforce 'Gangster Act' against cow smugglers
Jan 28, 2023 08:46 PM IST
In 2017, following instructions of then chief minister Trivendra Rawat for forming a special squad to keep in check the "increasing number of cases of cow smuggling and cow slaughter" in the state, two 'govansh sangrakshan squads (cow protection squads)'– one each for Kumaon and Garhwal regions– were formed
Uttarakhand police will now book cow smugglers who are part of organised gangs under the 'Gangster Act' to curb the illegal transportation and smuggling in the state, officials said on Saturday.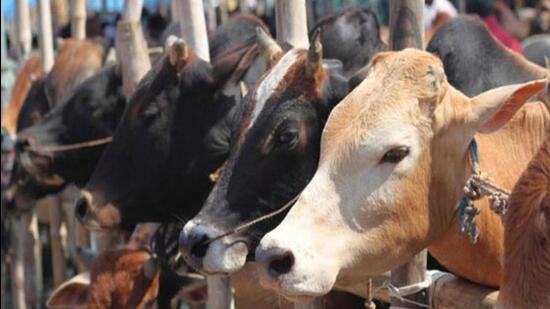 On Saturday, director general of police (DGP) Ashok Kumar issued instructions to district police in-charges to take strict action against those found smuggling cows.
"Strict action will now be taken under the Gangster Act against those who illegally transport and smuggle cows and are part of the organised gangs in the state. Director general of police, Uttarakhand, Ashok Kumar has directed all the district in-charges to take action under Gangster Act against those booked under Uttarakhand Protection of Cow Progeny Act, 2007," a statement released by the state police said.
Also Read: 'Will clean Vidhana Soudha with Dettol and cow urine': KPCC chief DK Shivakumar
Kumar said, "It is a big step to destroy the professional network of cow smugglers and tighten the noose around them. I have instructed all district police in-charges to take action in this regard."
In 2017, following instructions of then chief minister Trivendra Rawat for forming a special squad to keep in check the "increasing number of cases of cow smuggling and cow slaughter" in the state, two 'govansh sangrakshan squads (cow protection squads)'– one each for Kumaon and Garhwal regions– were formed.
According to data shared by the police department, approximately 600 people were arrested and around 300 cases were registered since 2017 for cow slaughter and smuggling by cow protection squads when they came into existence.
Of the total, those part of organised gangs will be scrutinised and booked under the Gangster Act, a senior police official at the state headquarters said.
Also Read: 45 cows dead at Karnal gaushala; FIR against fodder supplier
According to a senior official, cow smuggling is a major issue in districts bordering Uttar Pradesh such as Udham Singh Nagar and Haridwar, where gangs from the neighbouring state are involved.
Last year, the Uttarakhand government decided that they will constitute village cow protection committees and pay up to ₹5,000 per month to its members "for protecting and nurturing stray cows."
According to an official who didn't wish to be named, unskilled, illiterate, and unemployed will be appointed as 'gau sevaks' in these committees. One person will take responsibility for at least four to five cows.