'Will clean Vidhana Soudha with Dettol and cow urine': KPCC chief DK Shivakumar
Published on Jan 25, 2023 04:11 PM IST
Karnataka Congress chief DK Shivakumar on Tuesday asked the ruling BJP to "pack their tents", saying he will clean the Vidhana Soudha with Dettol and cow urine to wash away the ruling party's "corruption".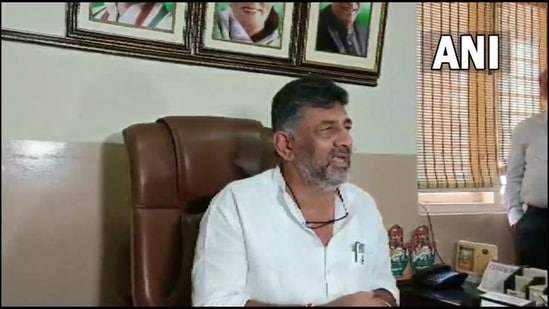 Karnataka Congress chief D K Shivakumar, one of the potential chief ministerial candidates from the grand old party, on Tuesday said he will clean the Vidhana Soudha with Dettol and cow urine, asking the ruling BJP to "pack up".
Claiming that the legislative house is polluted by the "corruption" of the Basavaraj Bommai-led government in the poll-bound state, Shivakumar said he will purify it with 'ganjala' (cow urine), and that his party will come back to power after the upcoming assembly elections, bound to happen in April - May.
READ | 'Will win from Kolar even if PM, Amit Shah campaigned against me': Siddaramaiah
"There're only 40-45 days left for your govt. It's time to pack your tents. We'll clean Vidhana Soudha with Dettol. I also have cow urine for purification, this evil govt should go. That's what people want. Bommai, tell your ministers to pack up," he said.
The statements came a day after the BJP filed a complaint with the Lokayukta against former chief minister Siddaramaiah and the opposition party, alleging irregularities in the 'TenderSURE' projects during their tenure.
To this, DK Shivakumar hit back, saying, "BJP has a brand of 40 per cent commission, and to cover up they were trying to make baseless allegations against Congress."
READ | Congress holds protest across 300 locations in city, BJP slams move
"You (BJP) are not able to make one person from your party speak. There are 32 groups in your party, I have got a list done...and you talk about us," he added.
Leader of Opposition Siddaramaiah also hit back at the charges, saying, "The allegations about 40 per cent commission, PSI recruitment and COVID scam- let all those allegations that we have made, be combined with the allegations that they (BJP) are making against us now, and together they be handed over to an inquiry commission headed by a Supreme Court Judge. If they have guts, let them do it."
"BJP is panicking with fear of defeat in the election and was making baseless allegations. Anti Corruption Bureau (ACB) was repealed by High Court, not by the BJP government. "We did not shut the Lokayukta as alleged by BJP," he added.
(With inputs from PTI)