16 stolen vehicles recovered with new ANPR cameras in Nuh
Published on Jan 04, 2023 10:44 PM IST
Police said the 54 ANPR cameras are keeping a record of registration numbers of stolen vehicles in Haryana and Delhi-National Capital Region (NCR) and have a database of at least 12,000 stolen vehicles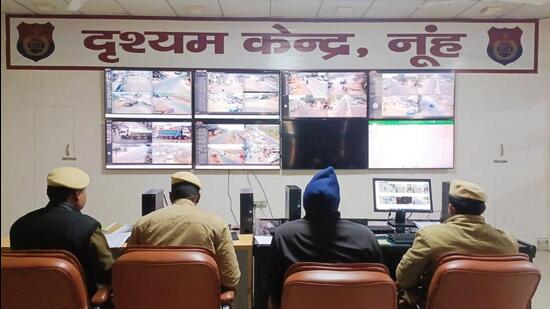 The Nuh police have recovered 16 stolen vehicles in the past two days with the help of automatic number-plate recognition (ANPR) camera system.
The system underwent a trial run on Monday and was inaugurated on Tuesday at the Drishyam Kendra set up at the police control room at the mini-secretariat to monitor CCTV cameras and share real-time data with patrol teams, said police officers.
Police said the 54 ANPR cameras are keeping a record of registration numbers of stolen vehicles in Haryana and Delhi-National Capital Region (NCR) and have a database of at least 12,000 stolen vehicles. More stolen vehicle numbers will be added to the database from NCR, said police officers.
Varun Singla, superintendent of police, Nuh, said the ANPR system supplements the 44 pan-tilt-zoom cameras installed last year in February. "We have stored data of stolen vehicles and teams are undergoing training, after which they will be deployed at 54 check-posts in the district where there is high likelihood of vehicles entering from Haryana and Rajasthan. We have all the details pertaining to a stolen vehicle in the database, which helps in crime detection, traffic enforcement and tracing stolen vehicles. This system was required as many stolen vehicles are taken to Nuh," he said.
He added, "The data communication is through a set of wireless radio frequency-based receivers and transmitters installed at all camera locations and at some strategic locations for seamless and high-speed data transmission, avoiding the need for laying up a costly wired network that could break down. An alert is sounded to the nearby traffic post as well as the Drishyam Kendra as soon as any vehicle suspected to be stolen enters an area where an ANPR camera is installed. The vehicle is intercepted at the next checkpoint by a police team. If a vehicle escapes from a checkpoint, teams track and follow it."
Police officers said their aim is to get data of at least 200,000 stolen vehicles that are suspected to have entered Nuh in the past few years.
M Ravi Kiran, inspector general of police, south range, who inaugurated the system, said with the help of new technology and facilities, Nuh police will keep a close watch on the activities of crime and criminals. "This will help in reducing vehicle theft and keep a close watch on criminal activities," he said.
Singla said the system is integrated with the e-challan system of National Informatics Centre and they have issued 47 postal challans in the past two days.
Police said the cameras are connected to software which will integrate with the system that will further be connected to Crime and Criminal Tracking Network and Systems (CCTNS) and District Crime Record Bureau (DCRB) database, which updated itself with the latest stolen vehicle numbers from the city as well as the state.