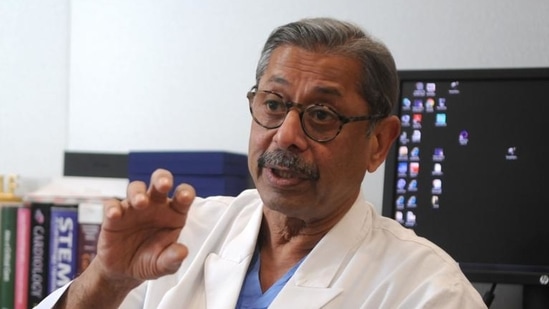 90% of Covid-19 patients will recover at home: Dr Naresh Trehan
Trehan was among four senior doctors who spoke on ways to step the fight against the pandemic as India on Sunday reported a record daily rise of 349,691 new Covid-19 cases.
UPDATED ON APR 25, 2021 05:48 PM IST
A top doctor on Sunday dispelled rumours around the coronavirus disease and said that Covid-appropriate behaviour will help break the chain of surging infections across the country. Dr Naresh Trehan of Medanta - The Medicity said 90 per cent of those who have contracted the viral disease will recover at home if they take their medication on time. "As soon as your RT-PCR report comes positive, my advice would be to consult your local doctor. All doctors nowadays know the protocol and will begin your treatment accordingly," Dr Trehan said.
Dr Trehan also said Covid-19 patients can also try other things to keep fit. "Yoga's 'anulom vilom' exercise is very effective in expanding our lungs because when you take a deep breath, the exchange of oxygen is more," he added.
Also read | Bharat Biotech seeks extension of Covaxin's shelf life. All you need to know
Trehan was among four senior doctors who spoke on ways to step the fight against the pandemic as India on Sunday reported a record daily rise of 349,691 new infections, taking its overall tally to 16.96 million infections. As many as 2767 people also succumbed to the disease on Sunday, according to the health ministry data, taking the death toll to 192,311. Dr Randeep Guleria, the director of Delhi's All India Institute of Medical Sciences (AIIMS), head of department of medicine at AIIMS Dr Naveet Wig and director general Health Services Dr Sunil Kumar, also addressed issues related to the coronavirus pandemic.
Also read | Don't panic and stock oxygen, Remdesivir at home: AIIMS chief to Covid patients
Dr Trehan said also said the demand for oxygen shot up by three times due to the spike in the Covid-19 cases and that the issue is related to its transportation. "This is a challenge. The steel industries, which are the biggest manufacturers of oxygen for their own consumption, offered to provide oxygen. But the issue is related to oxygen transportation. For this, special tankers have been ordered and the government is helping them in transportation. The supply chain can improve in five to seven days," he said, according to news agency ANI.
The Medanta chairperson said there is no need to panic. "The understanding of patients, wastage of oxygen and judicious use of oxygen by the hospitals can bridge the supply of oxygen. We have to use the resources carefully," he said.
Also read | 'Glaring lapses...': Parliamentary committee report flagged concerns over oxygen supply last year
He also said doctors should ensure that the oxygen should be used in a judicious manner. "Patient's lungs' condition, blood test reports, comorbidities and age create a scenario under which we can say if it is right for them to be hospitalised... I would like to tell doctors to keep in mind that who has to be recommended to hospital," he said regarding the hospitalisation of those who have tested positive for Covid-19.
"The balance between Covid care centres run by hospitals and hospitals must coordinate. This will rationalise the use of oxygen, increase the availability of beds and the public will not panic," he said. "We can win the war if the public will support us. The government is responding to the demands…" he added.
Topics
Close