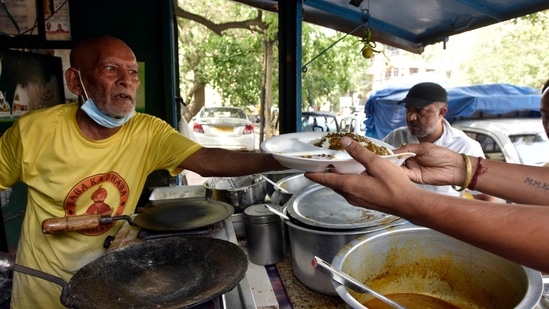 'Baba ka Dhaba' row ends, YouTuber Gaurav Wasan says 'all is well'
Gaurav Wasan's posts came after Kanta Prasad, the owner of the Baba Ka Dhaba or a roadside eatery, offered an explanation.
UPDATED ON JUN 15, 2021 10:00 AM IST
The "Baba ka Dhaba" controversy seems to have come to an end after YouTuber Gaurav Wasan said he has accepted the octogenarian owner's apology over charges of swindling the money donated by people. "All is well that ends well. The person who forgives is a bigger person than who makes a mistake - That's what my parents have taught me," Gaurav Wasan tweeted with hashtag #BABAKADHABA.
Gaurav Wasan's posts on social media platforms came after Kanta Prasad, the owner of the Baba Ka Dhaba or a roadside eatery, offered an explanation. Prasad apologised after he accused Wasan of fraud and said the YouTuber did not give him all the money received in donations. Wasan denied the allegations and produced documents to prove his claims.
+
Also read | Baba returns to dhaba: Rise and fall of the social media sensation
"Woh ladka koi chor nahi tha, na usko humne kabhi chor kahan hai (That boy was not a thief neither did we call him that)," Prasad can be seen saying with folded hands in a video shared by a food blogger.
Also watch: 'Baba Ka Dhaba' owner accuses YouTuber of misappropriation of funds
Last year, Gaurav Wasan shot a video showing the "Baba ka Dhaba" owner talking in tears about the loss of his business amid the coronavirus pandemic, and then it went viral. As the video started being shared widely, hundreds lined up outside his eatery in south Delhi's Malviya Nagar. People from across the country also started helping Kanta Prasad monetarily, which helped him start a restaurant. Baba ka Dhaba was also listed on Zomato.
Also read | Delhi Police book YouTuber accused of cheating 'Baba Ka Dhaba' owner
But Prasad shut his restaurant on February 15 this year as he could not sustain it and customers stopped coming. "The heavy expense of around ₹1 lakh was involved in running it and we had to pay ₹36,000 per month to workers working there and the rent of that shop was ₹35,000 per month," Prasad was quoted as saying by news agency ANI earlier this month.
"Other expenses included electricity bill, water bill, etc. As compared to the investment, the returns were less so it was necessary to close it because we were incurring losses," he said,.
The 80-year-old back to running his old "Baba Ka Dhaba" but said he will continue running this eatery as long as he lives. "The day business sees a slump, I will shut it. We have kept ₹20 lakh for me and my wife from the money we received as donations last year," he said.
Topics
Close