Man held in Mumbai for selling fake coins minted in Haryana factory
Megha Sood and Karn Pratap Singh
Feb 04, 2023 12:01 AM IST
The investigators said that Gala is a member of a gang from Haryana which manufactures counterfeit coins and sells them in different parts of the country
A 45-year-old businessman from Malad (Maharashtra) was arrested on Thursday evening by a joint team of Delhi Police's special cell and Mumbai Police for allegedly circulating fake Indian coins in the denominations ₹1, ₹2, ₹5 and ₹10, senior police officers aware of the matter said.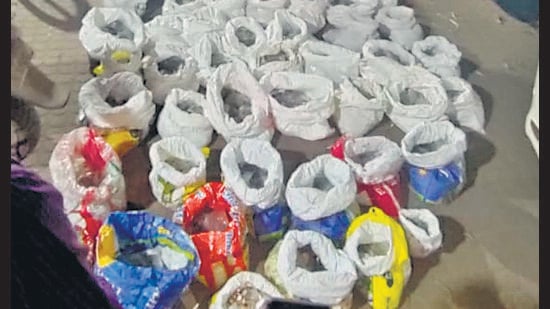 They added that the copper and brass coins were manufactured at a factory in Haryana..
The police recovered 94,600 counterfeit coins in the denomination of ₹10 amounting to a face value of ₹9,46,000 from the arrested businessman, identified as Jignesh Gala. The investigators said that Gala is a member of a gang from Haryana which manufactures counterfeit coins and sells them in different parts of the country.
Gala's arrest and recovery of counterfeit coins was made is part of an ongoing 10-month-old Delhi Police operation, said special commissioner of police (special cell) HGS Dhaliwal. He said that the special cell had busted a fake coin manufacturing unit in Haryana's Charkhi Dadri on April 2022, and arrested five people, including the mastermind, Naresh Kumar.
"Our team had recovered 10,112 counterfeit Indian coins in the denomination of ₹10 with a face value of ₹1,01,120 from Naresh. His interrogation led to the arrest of four others, identified as Santosh Kumar Mandal, Shravan Kumar Sharma, Dharmender Mahto and Dharmender Kumar Sharma, all belonging to Bihar," Dhaliwal said.
The officer said that the team had been working on the case to find other people involved in the illegal activities. Some days ago, the team members received information about circulation of counterfeit Indian coins in shopping malls and markets in Mumbai, Dhaliwal added.
Jeevan Kharat, senior police inspector of Dindoshi police station, said Delhi Police officers found that a man in Mumbai had been selling huge quantities of fake coins to shopkeepers and temples where coins are in demand.
He added that Gala, who lived in the Pushpa Park area in Malad West, also imported and sold coin manufacturing machines to several gangs in India. Based on information about his whereabouts, a joint team of the police forces from the two cities intercepted Gala when he was travelling in his van.
"We intercepted the van on Thursday night and recovered fake coins of the face value of nearly ₹10 lakh stuffed in plastic bags from the vehicle," said Kharat.
Kharat said that the police had to spend hours emptying donation boxes at temples where Gala had supplied the fake coins. "They will be needed as evidence," said a police officer from Dindoshi police station.
"Gala has been arrested and handed over to Delhi police for further investigation," said Kharat.
Special commissioner Dhaliwal said that initial questioning of Gala has revealed that he had been buying coins from a second factory in Haryana, and not the one in Charkhi Dadri. "He is being brought to Delhi to identify the factory where these fake coins are being manufactured," he added.