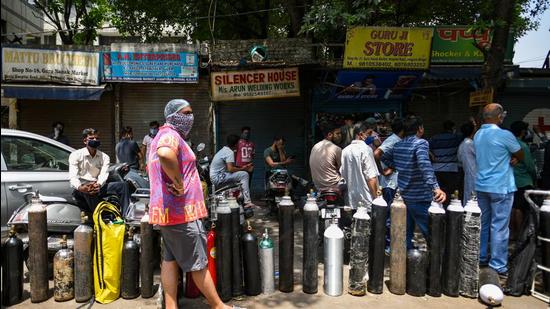 O2 crisis: Drug dept targeting particular party, says Delhi HC
A bench of justices Vipin Sanghi and Jasmeet Singh slammed the drug control department for initiating action against AAP MLA Praveen Kumar
UPDATED ON JUL 30, 2021 12:31 AM IST
The Delhi high court on Thursday cautioned the city's drug control department against prosecuting the good Samaritans who distributed oxygen cylinders during the second wave of the Covid-19 pandemic when "both the Centre and Delhi government failed to provide it".
A bench of justices Vipin Sanghi and Jasmeet Singh slammed the department for initiating action against AAP MLA Praveen Kumar, who represents Jangpura constituency, and said it was trying to target a particular political party. The bench said if the department starts prosecuting people like this, it will have to initiate action against "half the city".
"…we observed that it's a technical type of offence involving oxygen. This way you'll pick up half of Delhi. Why to proceed against specific political parties then? Proceed against gurdwaras too then. We said we will not permit this. Proceed against every gurdwara, every temple, churches or social organisation and people who had procured and distributed oxygen then.
"How can you prosecute him (Kumar)? The State, both Centre and Delhi government, failed in providing sufficient oxygen to people in Delhi. There were some Samaritans who provided oxygen. You can't prosecute them…. You're very consciously targeting political parties. It's very unfortunate. We will not permit this," the bench said.
The high court was hearing a PIL seeking lodging of an FIR on the allegations that politicians were able to procure and distribute Covid-19 medicines even as patients were running from pillar to post to get them. An application was later filed in the pending petition making allegations against Kumar and AAP MLA from Tri Nagar Preeti Tomar. Tomar was later given a clean chit.
The court's remarks came after the Delhi Drug Control Department, in a status report, said that it has initiated prosecution against AAP MLA Kumar, after he was found allegedly hoarding oxygen cylinders during the second Covid-19 wave.
The report had also said that prosecution has been launched against BJP MP Gautam Gambhir's Foundation, and AAP MLA Imran Hussain for alleged unauthorised purchase/procurement, stocking and distribution of medicines and medical oxygen.
With respect to Imran Hussain, the court said that it had earlier exonerated the legislator after finding that he was procuring oxygen cylinders from Haryana.
"All that we wanted to know in that respect was, was he sourcing his oxygen cylinders from refillers in Delhi. He filed an affidavit to say he was getting it from outside, he provided the particulars, challans etc. So, we said alright there is a man who is getting it from outside. He is helping the community and not lodging out of the supply to Delhi itself… therefore, we said let him go and did not take any action. Somebody is doing a similar thing, then how will you prosecute him?" the court said.
On Thursday, when the court asked why action was taken against AAP MLA Kumar, the drug controller's lawyer, Nandita Rao said a probe showed that the legislator procured oxygen from Punjab himself, without any doctor's prescription. Rao said the department is not doing a "witch hunt" but court responded, "Of course this is a witch hunt. Your second report clearly shows it."
The court also rejected the request from advocate Rao seeking time to file an updated status report on the aspect of prosecution of those procuring and distributing oxygen cylinders.
"We are not giving you two weeks. We're giving you two days. But if you're deciding to take action against those who were having oxygen, then you should also take action against all gurdwaras and temples, etc. We'll take details from you," the bench said.
The bench said that even though action against Gambhir was justified because he acted "irresponsibly" by hoarding medicines, action could not be taken against Kumar and others who distributed oxygen cylinders.
"Didn't you see pictures in the media? People wanting oxygen in Delhi….You should not go against a person. He (Praveen Kumar) was only trying to help the society. The reason for picking up Mr. Gautam Gambhir's case was that he was very irresponsibly having Covid-19 medicines. He may have had the best intentions but he procured 10,000 Fabiflu tablets, stocked them and then distributed them among people in his constituency so much so that he was left with 236 strips," the court said.
During the proceedings, senior advocate Kailash Vasdev, appearing for Gambhir, urged the high court to grant him a hearing as he wished to make certain clarifications and also requested the court to clarify in its order that the adverse observations made against him will not be used against the BJP MP before the trial court where prosecution has been initiated against him.
The high court made it clear that the observations made by it earlier in these hearings will not come in the way of proceedings in the trial court.
The Gautam Gambhir Foundation, in a statement, said, "The court was informed about the voluntary service done by the foundation from 2012 for society at large. The court was informed how the orders of the court had been misused by vested interests to tarnish the image of a voluntary body and Gambhir, and how the entire matter had proceeded without hearing the affected parties. The court directed that none of its orders would prejudice the parties in any manner and the trial court would decide the case on its own merits."
The matter will now be heard on August 5.
Topics
Close