Interstate vehicle lifter gang busted in Nuh, four held
Updated on Jan 04, 2023 12:11 AM IST
According to police, 73 cases are registered against the four men in Haryana, Delhi, Uttar Pradesh and Rajasthan. Police had also declared an award of ₹60,000 for information leading to the arrest of the kingpin of the gang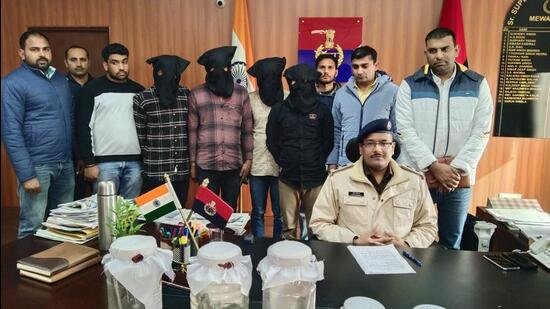 Nuh police busted a gang involved in vehicle theft in at least four states and arrested four men in connection with the crimes on Monday night. Police have recovered a stolen SUV, three countrymade pistols, eight cartridges, three master keys and two fake number plates from their possession, officers said on Tuesday.
According to police, 73 cases are registered against the four men in Haryana, Delhi, Uttar Pradesh and Rajasthan. Police had also declared an award of ₹60,000 for information leading to the arrest of the kingpin of the gang identified as Ikram alias Akram (30). Police identified the other arrested men as Ajaruddin alias Ajru (30)--Ikram and Ajaruddin are residents of Jaimat village--Sadruddin alias Sadar (24) and Azad (26), both residents of Rithat village of Nuh.
Superintendent of police (Nuh) Varun Singla said that the crime unit of Tauru received a tip, based on which a raid was conducted and the suspects arrested from under the Gurnawat railway bridge in Tauru. "The kingpin Akram carried a reward of ₹10,000 announced by UP police in a case of robbery registered in Agra while another reward of ₹50,000 was announced by the local transporter of Rajasthan. He is involved in 23 cases of robbery, theft, ATM robbery, extortion in Rajasthan. He was wanted in 20 cases of robbery registered in Mathura, Hathras, Agar, Noida, Alwar, Jaipur in Rajasthan and Faridabad in Haryana," he said.
Singla said Sadar was also wanted in five cases of vehicle theft and ATM robbery and 15 cases have been registered against him in UP and Rajasthan. A Nuh court also had declared him a proclaimed offender. "At least 10 cases of vehicle lifting are registered against Ajru. They will be taken on police remand for further questioning," he said.