BJP's Suvendu Adhikari skips Bengal guv oath-taking, slams 'wretched' Mamata
Updated on Nov 23, 2022 03:27 PM IST
Referring to Banerjee as the 'company's owner', he claimed she had decided the guest list and seating arrangement.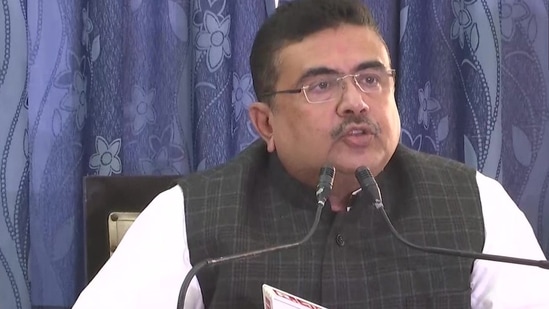 Written by Lingamgunta Nirmitha Rao | Edited by Chandrashekar Srinivasan
BJP leader Suvendu Adhikari, the leader of the opposition in Bengal, on Wednesday skipped Dr CV Ananda Bose's oath-taking ceremony as governor of the state citing a seating arrangement issue at Raj Bhawan. Adhikari tweeted a photo of arrangements at Raj Bhavan and slammed the 'uncultured conduct of Department of Information and Cultural Affairs...'
"Being the Leader of the Opposition, I am the representative of the people of WB. So it is my duty to apprise the constitutional head of the state about various issues that have plagued our state; such as unabated corruption, deteriorating law & order and financial insolvency."
Also Read | BJP MLA says 'khela hobe' in Dec, claims Bengal govt will fall; TMC hits back
He also claimed the photograph showed a 'political vendetta' on the part of the ruling Trinamool Congress and attacked chief minister Mamata Banerjee.
"She's the most wretched politician ever born in India, who disgracefully latched on to power by becoming a 'portfolio-less' central minister. If she's elated that her third rate-tactics would rattle me then she's living in a fool's paradise. Unlike her I am conscious of my dignity."
Adhikari was a close aide of Banerjee before his controversial jump to the BJP months before the 2021 Bengal Assembly election; he contested against friend-turned-foe Banerjee from his stronghold of Nandigram and beat the Trinamool boss, who had to win a bypoll to remain CM.
Also Read | West Bengal will stop paying GST if Centre does not release funds: Mamata Banerjee
"A pic from Raj Bhavan shows BJP state president Sukanta Majumdar and my seats are behind seats of TMC MPs like Derek O'Brien, Sudip Bandyopadhyay, Mala Roy and next to two disqualified BJP MLAs who are with TMC now... for governor's oath-taking ceremony. It is political vendetta," Adhikari ranted.
Referring to Banerjee as the 'company's owner', he claimed she had decided the guest list and seating arrangement. He also declared he could not compromise his position - as LoP - and that he would therefore not attend the programme.
"It has been done on purpose to humiliate the opposition and is a misuse of the opportunity given to her... We've informed the governor and will meet him separately," he said.
(With ANI inputs)
Personalise your news feed. Follow trending topics