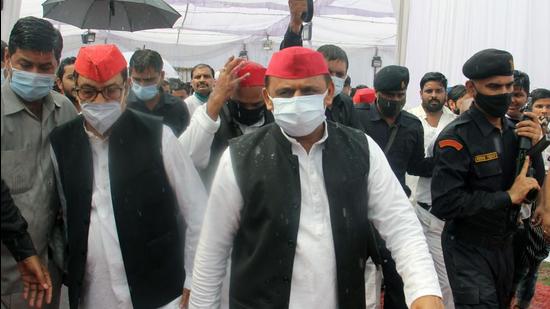 Akhilesh Yadav resumes his state tour ahead of next year's UP assembly polls
Between December 2020 and April this year, the former chief minister campaigned in as many as 40 districts. "The national president's tour was supposed to resume soon after April's panchayat polls, but the party put it on hold because of the second wave of Covid-19," said a senior SP functionary
PUBLISHED ON JUL 28, 2021 08:46 AM IST
Samajwadi Party (SP) national president Akhilesh Yadav has resumed his tour of the state in the run-up to Uttar Pradesh assembly polls next year. He began the second edition of the tours with a day-long visit to Unnao, a neighbouring district of Lucknow, on July 21.
Between December 2020 and April this year, the former chief minister campaigned in as many as 40 districts. "The national president's tour was supposed to resume soon after April's panchayat polls, but the party put it on hold because of the second wave of Covid-19," said a senior SP functionary.
The party says while Yadav will complete the tour of the remaining districts this time around, he may also revisit some districts, including his Lok Sabha constituency Azamgarh, Varanasi, Gorakhpur, and a couple of Bundelkhand districts.
Also Read | Heavy to extremely heavy rain likely over Uttarakhand and northwest UP today
These tours involve meeting the party cadre for poll preparation discussions, roadshows, public meetings, Kisan panchayats, press conferences, and short bicycle rides with party workers. He had also been on temple runs--going to Hindu, Muslim, and Buddhist places of worship.
"The way crowds are gathering at his shows indicates how restive the people are to vote the BJP out and bring back the Samajwadi Party," said SP state spokesperson and former minister Rajendra Chaudhary.
Yadav has mostly kept his attack focused on the Bharatiya Janata Party (BJP), and has refrained from speaking about any other rival political party, be it the Congress or the Bahujan Samaj Party (BSP).
Among his political rivals, BSP chief Mayawati has not travelled across the state at all, while Congress general secretary Priyanka Gandhi Vadra visited a few districts such as Saharanpur and Mathura (before the panchayat polls) and recently Lucknow and Lakhimpur-Kheri.
"If he and his party aspire to win against the BJP, he has to be seen on the road now. There is no other way. As of now, it is only his party which is in a position to take on the BJP in the coming polls. Hard work and some strategic alliances, if he goes for them, will help in the fight," said Prof SK Dwivedi, a political analyst and former head of the department of political science, Lucknow University.
Dwivedi added: "His solo Kranti Rath tour of the state in 2011 shortly before the 2012 UP assembly elections is still etched in public memory."
SP patriarch Mulayam Singh Yadav credited Yadav and his Kranti Rath campaign for SP winning with majority for the first time in its electoral history. That also saw Yadav become Uttar Pradesh chief minister for the first time in 2012.
Close