Houses built on debris left by landslides made Joshimath extremely vulnerable: IIT-Kanpur expert
Jan 09, 2023 11:56 PM IST
High time to learn lessons from Joshimath situation, says IIT-K scientist who led a research to collect topographical data in the region in December
Joshimath had become extremely vulnerable as houses, roads and hotels there had been built on debris left behind by landslides occurring since time immemorial, said Prof Rajeev Sinha, an IIT-Kanpur scientist who did research and collected crucial topographic data in the area in December to study measures to contain disasters.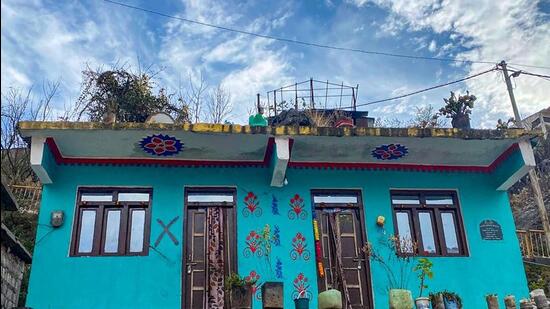 In view of the land subsidence in Uttarakhand's Joshimath ringing alarm bells now, Sinha, who is with earth sciences department the at Indian Institute of Technology-Kanpur and head of the research team, said it was high time to learn lessons.
Prof Sinha surveyed the entire area with special drones and the data was now being studied.
The entire region was tectonically extremely sensitive, he said. On top of it, poor planning in development had made not only Joshimath, but also places upstream dangerous.
"Landslides in the Joshimath stretch are happening since time immemorial. Each landslide leaves behind debris in its aftermath. Throughout Joshimath, the houses, roads and hotels are built on these debris. Since there was a gap of years between the landslides, people thought it is normal, and it will not happen again. In this situation, they have kept building on debris," he said.
"The debris, unlike the rocky foundation that provides stability, have this tendency of loosening up whenever there is an underground disturbance. The vertical cracks on the houses in Joshimath are a clear indicator of this that the foundation has moved," he said, adding this time (it was) due to mountain uplift because of tectonic activity.
During the survey, he said, it emerged that massive population had settled near the rivers. "The people have their houses and other establishment on the slopes, again on the debris, this is dangerous. Just imagine the area is sinking without any earth quake or heavy rains, what will happen in case either of these two strikes? We have to act fast or else we may face serious consequences."
He suggested Joshimath needs to be immediately evacuated and habitation allowed only after corrective measures are in place.
In addition, hot spots need to be identified at the earliest and divided in buffer zones with a complete ban on any construction activity in entire area that the study marks as vulnerable, he said.
"This demarcation should be done on priority, limiting the use of land stringently," he said, adding if this was not done it would impact not only Joshimath or Karnprayag, but many other places.
The villages and towns should be developed in a planned manner after a scientific study on the hills and mountains.
" We should not assume that if an earthquake or land slide has not happened in an area, it is safe for habitation."
"In this region, one issue leads to another; for example, landsliding dams the river, causing horrific floods. This is exactly what happened during the Dhauli Ganga disaster of last year. It is a complex region, the entire situation should not be merely seen from the landslide issue but all the problems it leads to," he said.
"On the basis of these findings, corrective measures should be strictly put in place and all should abide by them," he said.