Magh Mela-2023: Women seers taking their fathers' religious legacies forward
Jan 12, 2023 10:59 PM IST
In various camps, women seers and preachers of various age groups are walking the paths taken by their fathers by delivering discourses, telling religious tales and leading yoga sessions
It's 7am and amid fog and chilly winds, a small camp on Sangam banks is abuzz with activities. At one corner, preparations for morning prayers are on while in another tent volunteers are busy chopping vegetables even as the kitchen gears up to prepare the breakfast to be served after a round of yoga for all campers, including young and old pilgrims, seers and volunteers of different age. Leading this all is a young 25-year-old Yogacharya Radhika Vaishnav, the head of the camp.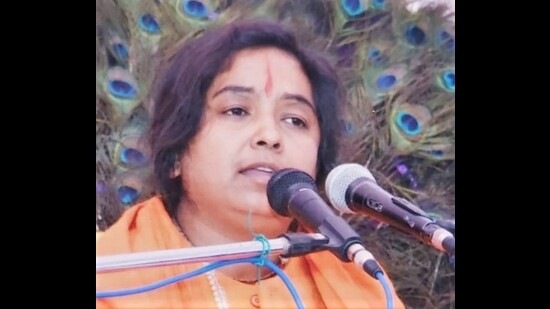 Radhika is simply taking forward what she has learnt and inherited from her late father Swami Kapilmauni Naga, a Maha Mandaleshwar (high priest) of Shri Panchayati Niranjani Akhada—one of the 13 ancient Hindu monastic orders of the country. Swami Kapilmauni Naga passed away owing to a kidney ailment at the age of 68 in April 2021.
"I have been coming to this camp right since my childhood. I had been helping my father run the camp during the annual Magh Mela for years and other major religious fairs including Kumbh-2019. Since 2022, I am now doing so as the camp head after losing my father," said Radhika from Chitrakoot Dham, busy overseeing the site in the camp where "Ram Katha" discourse would begin from January 19.
"After morning prayers, I lead a yoga session followed by a breakfast and other religious activities like discourses," said Radhika who is a well-known "Ram Katha" orator widely respected for her lucid and interesting style of narrating the story of Lord Ram. She is also a yoga expert. Radhika is not the only woman doing so in the tent city of Magh Mela.
Daughters, who are often seen following in the footsteps of their fathers in other fields, are also taking forward the legacy of their fathers in the field of religion and Sanatani traditions as is evident at the ongoing Magh Mela-2023 that began with the bathing festival of Paush Purnima on January 6 and would conclude with the bathing fest of Maha Shivratri on February 18.
In various camps, women seers and preachers of various age groups are walking the paths taken by their fathers before them by delivering discourses, telling religious tales and leading yoga sessions for the pilgrims.
One among them is Mahant Meera Devi from Sidhi, Madhya Pradesh. "My father Swami Jamuna Prasad was a well-known religious leader visiting across the country giving religious discourses. I learnt the finer details of the Sanatan dharma from him and later took diksha or ordination from his guru Bhramrishi Gopal Dasji. Since my father's passing away a few years back, I am now taking forward his work, including camping in Magh Mela and sharing his teachings," said Meera Devi, 55, busy at her camp located at Annapurna Marg of the tent city.
Similarly, Sadhvi Archana, 51, is taking forward the religious legacy of her father's elder brother, who taught her about the Sanatan Dharma and the art of giving religious discourses, including the Bhagwat Katha (discourse of Lord Shri Krishna).
"I have been coming to Magh Mela regularly now for the past over 20 years and had made up my mind to continue with the tradition after him. I have been setting up the camp here now for over a decade," said the woman saint originally hailing from Jabalpur in Madhya Pradesh but now having an ashram in Lakshagrah, Prayagraj.
Likewise, Sadhvi Krishna Dasi, 62, of Dashashwamedh Ghat in Varanasi, who runs a women welfare organisation there, too has set up her camp on Ramanuj Marg of the Magh Mela tent city.
"I have been coming to the camp of my father Rajdhar Dwivedi for years. My father, a social worker, dedicated his life to the uplift of women and tirelessly worked for women welfare. After him, now I am doing the same," she said looking at over two dozen women busy singing bhajans in her camp unmindful of the cold wind sweeping the Sangam banks.