Over 40 slum children to participate in R-Day parade in Lucknow
Published on Jan 24, 2023 07:53 PM IST
Their life is transformed due to Project Smile that is aimed at bringing these children out of beggary and connect them with the mainstream, says municipal commissioner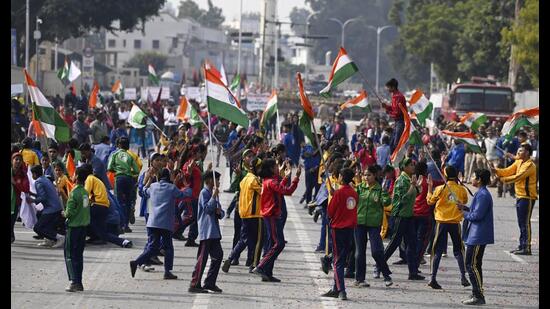 LUCKNOW Slum kids in the 11-18 age group, who used to beg at traffic signals, carrying placards with the slogan 'bhiksha se shiksha ki ore' (from beggary to education), would be participating in the Republic Day parade this year.
"It's for the first time beggars from slum areas will participate in the Republic Day parade of any state. Over 40 children, who used to beg at crossroads, are rehearsing daily for the R-Day parade," said municipal commissioner Inderjeet Singh.
"Now, their life is transformed due to Project Smile that is aimed to bring these children out of beggary and connect them with the mainstream. We have been working with these children for the last 1.5 years," added Singh.
"The work of giving them education and connecting them with schools is being done. Now, we are bringing them to the parade practice so that they have some new experience and take confidence from here," he said.
Balbir Singh Maan of NGO 'Umeed', which is playing an important role in Project Smile, said: "Earlier, these poor children used to beg for money. But we have been educating them since last year. Today, they are full of confidence to participate in the R-Day parade."
Rupa, 17, who used to beg at crossings, said: "Project Smile has changed our lives. I happy to be part of the parade on January 26."
"From begging to participating in the R-Day parade, it is a dream come true for me. We have never seen anything like this before and never thought we would participate in the parade in front of so many people," said Afsana, 17.
Hrithik, 11, another poor child, said: "Papa works as a labourer and sometimes there is no food in the house. So, we had to earn money by selling balloons on the streets or begging. Our life has changed since the time the workers of Project Smile picked us up from the street. I feel like my dream of joining the army would be possible after participating in the parade."
Pratap Vikram Singh of Project Smile said, "The kids are performing at par with the kids of convents and government schools, rehearsing for the R-Day parade. A year and a half back, these children never wanted to talk to anyone as they were not ready to trust us. It took us a long time to build trust. We gave them toys, started running smart classes for them and gave them exposure. We took them to the Raj Bhavan where they met the governor, then to the divisional commissioner and DM office where they met divisional commissioner Roshan Jacob and DM Suryapal Gangwar. Today, they are feeling the change."