Amid Ramcharitmanas row, Akhilesh meets Maurya, breaks silence
Jan 28, 2023 05:45 PM IST
Last week, Maurya sparked controversy for his statement that the words in Ramcharitmanas, a poem based on the epic Ramayana, were hurting the sentiments of the Dalit community and demanded a ban on it
Amid the row over his comments on Ramcharitmanas, Samajwadi Party MLC Swami Prasad Maurya met party chief Akhilesh Yadav on Saturday.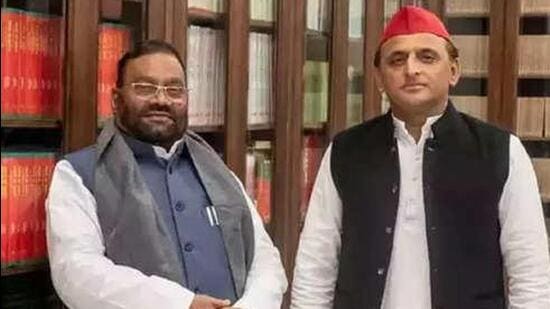 According to the people familiar with the matter, they discussed the caste-based survey in the meeting which lasted over an hour.
Breaking the silence over Maurya's controversial statement on Ramcharitmanas, Yadav indicted solidarity with Maurya and made a fierce attack on the Bharatiya Janata Party (BJP) saying "BJP people consider Dalits as Shudra...They consider us backwards and Dalits as Shudras (untouchable)."
Last week, Maurya sparked controversy for his statement that the words in Ramcharitmanas, a poem based on the epic Ramayana, were hurting the sentiments of the Dalit community and demanded a ban on it.
Also Read: 'Now, are they not terrorists?': SP Maurya on Hindu leader, seer's rewards to behead, cut his tongue off
A case was registered against Maurya in this matter.
Yadav's statement came in after Maurya called on him. "The BJP people have a problem in our going to 'their' religious places and why we seek blessings from sant-mahatamas," Yadav said.
To a direct question on his stand on Maurya, Yadav said, "I have asked him (Maurya) to take forward the work on caste census."
When asked about Yadav's stand on his statement on Ramacharitmanas, Maurya said "Akhilesh ji is the national president of the party. He will make a statement at the appropriate time".
On the caste census in the state, Maurya said that he will write to the central government about the caste census. The Samajwadi Party has been demanding a caste-based survey in the state.
"To provide justice to the SC [Sheduled Castes], ST [Scheduled Tribes] and Backward Classes of this country, the party will demand a caste-based census first of all. For this, we will write a letter to the central government", he said.
Maurya, a former UP cabinet minister and prominent OBC leader joined the Samajwadi Party in January last year ahead of the crucial 2024 parliamentary polls.