A newfound camaraderie
Jan 23, 2023 12:50 AM IST
While politicians in the state have often maintained cordial relations cutting across party lines, the camaraderie between NCP leaders and CM Eknath Shinde has surprised many. Recently Shinde was all praise for Pawar. He said, People say Pawarsaheb speaks in a manner as sweet as sugar," he said and added that he always seeks the NCP chief's guidance
In June this year, Chief Minister Eknath Shinde and his associates blamed the Nationalist Congress Party (NCP) while engineering a split in Shiv Sena. They had then alleged that Uddhav Thackeray was toeing the line of the Sharad-Pawar led party. They had also accused then finance minister Ajit Pawar of ignoring the Shiv Sena legislators while allocating government funds during the MVA regime. The past few weeks, however, show that they might change their opinion. On Saturday, Shinde was the chief guest at a function of Pune's Vasantdada Sugar Research Institute, a research body of the cooperative sugar industry which was set up by Pawar. The chief minister rubbed shoulders with NCP's top rung leaders including Ajit Pawar and Jayant Patil. While speaking at the function, Shinde was all praise for Pawar. "People say Pawarsaheb speaks in a manner as sweet as sugar," he said and added that he always seeks the NCP chief's guidance.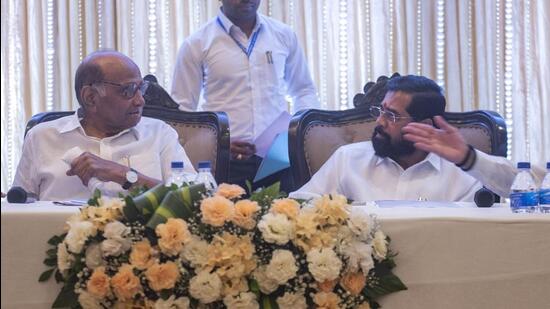 While politicians in the state have often maintained cordial relations cutting across party lines, the camaraderie between the NCP leaders and Shinde has surprised many. Is it just a coincidence that NCP chose not to go after Shinde during the winter session of legislature in Nagpur when he was in a spot following High Court's remarks over a decision taken by him as urban development minister in MVA government in allotment of Nagpur Improvement Trust land to a few individuals? It is no secret that several leaders in the NCP do not see Shinde as an enemy while they consider Devendra Fadnavis as the "real enemy". In the past few weeks, the party's attack on Shinde has been timid. A certain friend of NCP sitting in Bandra may not be amused if this camaraderie continues to grow.
A happy ally
Eknath Shinde's Balasahebanchi Shiv Sena (BSS) is hopeful of ministerial berths in the next reshuffle of union cabinet. Technically, the BSS is BJP's ally with highest number of MPs (13). If the whispers in the party are to be believed, the BSS could get up to three ministers of state. Expectedly, there is clamour in the BSS for these spots. According to Shinde's aides, he is unlikely to make his MP son Shrikant a union minister. Mumbai south central MP Rahul Shewale would have been a favourite but he finds himself facing allegations of sexual harassment. Mumbai north west MP Gajanan Kirtikar, Ramtek (Nagpur) MP Krupal Tumane and Maval (Pune) MP Shrirang Barne are the frontrunners for the ministerial berths. Significantly, BJP had offered only two berths to erstwhile Shiv Sena after it returned to power in 2019. While south Mumbai MP Arvind Sawant became a union cabinet minister, Uddhav Thackeray refused to take the second berth since it was not of cabinet rank. Now Shinde is likely to choose three junior ministerial berths instead of two (offered to Thackeray led Sena earlier) as he can accommodate three of his MPs, says a close aide.
Netas and series of mishaps
On Friday, Shiv Sena leader and former health minister Deepak Sawant met with an accident when the car he was travelling in was hit by a truck near Mira Road. Sawant is out of danger but the incident has brought back focus on the series of mishaps involving politicians in the state. In December, Congress leader Balasaheb Thorat fell during his morning walk and suffered fractures on his shoulder. In the same month, Satara MLA Jaikumar Gore (BJP) was seriously injured as the SUV he was travelling in spun out of control and met with an accident. Later, Amravati MLA Bachchu Kadu was knocked down by a bike while crossing a road. NCP leader Dhananjay Munde underwent hospitalisation after his car met with an accident in Beed. Last Monday, NCP MP Supriya Sule's sari caught fire while lighting a lamp at a function in Pune. The same day, her cousin and party leader Ajit Pawar escaped an accident as an elevator he was going to take collapsed. All these incidents led the Shiv Sena (UBT) mouthpiece Saamana to wonder whether someone was casting a spell on politicians in Maharashtra.
Silence is golden
Congress leader Balasaheb Thorat's silence has baffled many in his party as well as in the state's political circles. It's been a fortnight since his brother-in-law Sudhir Tambe embarrassed the Congress by not filing his candidature even after getting nomination and instead, the latter's son Satyajeet Tambe filed the papers from Nashik graduates' constituency of legislative council. To save face, the Congress has announced support to an independent candidate. There have been speculations on why Thorat, who is recuperating after an accident, has chosen not to speak: Did Tambe have the blessings of Thorat or did the nephew outsmart his maternal uncle?