Aviation geeks fly high as Airbus Beluga, Embraer E 192–E2 land in city
Published on Nov 23, 2022 12:37 AM IST
"The Airbus A300-600ST (Super Transporter) aka Airbus Beluga, made its maiden visit to Mumbai Airport today. The aircraft is used to transport outsized cargo. And the lucky few passengers who witnessed this giant aircraft were left awestruck by the gorgeous sight," said a spokesperson of Chhatrapati Shivaji Maharaj International Airport Limited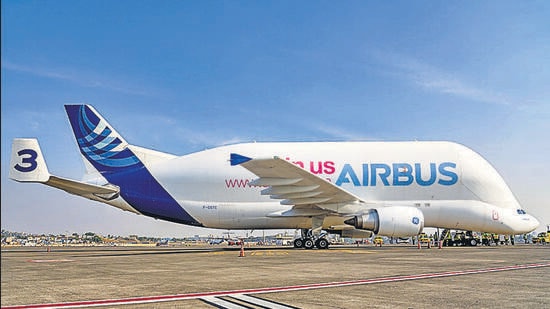 Mumbai: It is not every day that a whale-shaped bird lands at your airport. Its nose shaped like the sea creature, Airbus Beluga, one of the largest cargo planes in the world, landed in Mumbai on Tuesday afternoon and is likely to draw many aviation geeks to the airport on Wednesday for a closer look at the wonder.
The Mumbai International Airport had another interesting visitor in Embraer E 192–E2 – the largest jet in the E2 family by the Brazilian aircraft manufacturer – which also made its maiden entry in Mumbai.
"The Airbus A300-600ST (Super Transporter) aka Airbus Beluga, made its maiden visit to Mumbai Airport today. The aircraft is used to transport outsized cargo. And the lucky few passengers who witnessed this giant aircraft were left awestruck by the gorgeous sight," said a spokesperson of Chhatrapati Shivaji Maharaj International Airport Limited (CSMIA).
The Beluga reached the city around 2.50 pm. It is one of the heaviest arrivals in Mumbai in the last few years. Offered as the Airbus Beluga Transport Commercial Service, this aircraft provides customers with large cargo transport solutions for a variety of sectors, including space, energy, military, aeronautics, maritime and humanitarian sectors.
The Belugas have been operating for Airbus's own industrial airlift needs since the mid-1990s. The length of the aircraft is 56.15 meters and the height 17.25 meters, while the wing span is 44.24 meters. The Beluga ST's semi-automated main deck cargo loading system ensures easy and efficient handling of payloads.
Debashish Chakraverty, an aviation enthusiast said, "I plan to go there on Wednesday to see the giant plane. I am thrilled to know that it has come on Mumbai soil."
Few, however, could be as lucky as aviation geek and plane spotter Janam Parikh, a former Jet Airways employee who now works with Adani Airports, who even got to touch the spout of the Beluga. "Am I very lucky today? Hell yeah. Hi @Airbus #Beluga, so happy to see you here at @CSMIA_Official. Surely a catch of 2022!" he tweeted. Parikh was doubly thrilled to see the Embraer aircraft too. "I asked for an E2 and I got an E2. I am even happy with this one while I actually got to see the #Experimental one, up and close," he said, posting pictures with both the planes on the tarmac.
Embraer E 192–E2, decked in Techlion livery, arrived in Mumbai as part of its Asia tour. It made appearances at the 14th Airshow China in Zhuhai, at Guangzhou, and Seoul, South Korea. It then travelled to Haneda airport in Tokyo where Embraer had organised an industry conference, and Hanoi, Vietnam, before landing in Mumbai on Sunday.
The E192-E2 is considered the most fuel-efficient single-aisle aircraft in its E-jets family with 16 per cent lower fuel consumption, and 65 per cent noise reduction.
Embraer is looking for an opportunity to make headway in India where Boeing and Airbus aircraft dominate the airline fleet, though its private jets are quite popular with India's super rich.
Sanjay Ghodawat-promoted regional airline Star Air is the only one with five Embraer ERJ-145 aircraft in its fleet along with Airbus helicopters. The ERJ-145 has a passenger capacity of 50 and the airline deploys them on flights connecting smaller cities in Maharashtra, Gujarat, MP and Andhra with Mumbai, Bengaluru and Chennai.
Earlier this month, Embraer said in a statement that it is in discussion with potential partners in India for its next generation turboprop aircraft including for manufacturing. The update came shortly after Prime Minister Narendra Modi inaugurated the Tata-Airbus C-295 aircraft manufacturing facility in Vadodara on October 30 and said India could become an aircraft manufacturing hub. With the regional connectivity scheme UDAN connecting unserved and underserved airports, the market for low cost carriers connecting the small cities is growing and turbo-props could be the preferred aircrafts for this market.
Personalise your news feed. Follow trending topics