Environmentalists oppose 'adventure park' in Aarey's eco-sensitive zone
Jan 30, 2023 12:35 AM IST
The area in question is not only a 'green zone' as per the city's development plan, but it also falls under the delineated eco-sensitive zone (ESZ) around Sanjay Gandhi National Park. The ESZ was notified by the union environment ministry in December 2016
Mumbai: The ongoing work of setting up an 'adventure park' in Aarey Colony's Picnic Point area by a private contractor is being hotly opposed by several locals and activists on environmental grounds.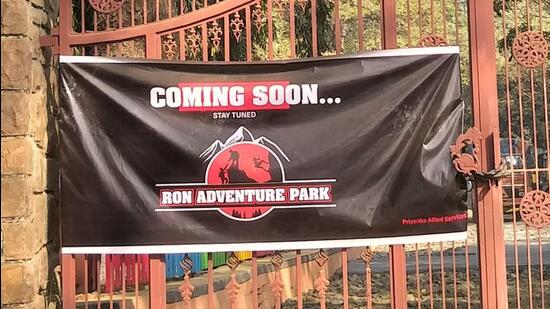 The area in question is not only a 'green zone' as per the city's development plan, but it also falls under the delineated eco-sensitive zone (ESZ) around Sanjay Gandhi National Park. The ESZ was notified by the union environment ministry in December 2016.
"The ESZ notification is for the conservation and protection of the area's natural ecology. It specifically provides that parks and open spaces earmarked for recreational purposes shall not be used or converted into areas for commercial activities," said environmentalist Zoru Bhatena, who also conveyed the same to BMC commissioner Iqbal Chahal in a complaint dated January 26.
"We were shocked to see sign boards advertising the opening of an 'adventure park' inside the Picnic Point Garden, at Aarey, a public space used by all and sundry, from picnickers to labourers to auto drivers and residents of Aarey as well. Such a space cannot be developed into a commercial activity that will restrict the land's use as a common area," Bhatena added.
Residents have also pointed out that the on-site work includes cutting trees and diversifying natural streams on the land, both of which are prohibited activities per the SGNP eco-sensitive zone notification. More worryingly, the area also falls under the recently notified forest compartment in Aarey, making any non-forestry work there impermissible without clearances from the state forest department. As per publicly available forest clearance (FC) records, no such permissions have been granted for an adventure park in Aarey.
Chahal did not respond to a request for comment from HT, nor did G Mallikarjuna, chief conservator of forests, SGNP.