Man climbs building to avoid de-addiction programme
Published on Jan 05, 2023 12:20 AM IST
Residents of a building in Nalasopara East had a scare on Wednesday morning after they heard noises from the parapet between the third and fourth floors. What they believed to be the presence of a robber turned out to be a drug addict trying to escape from being sent to a de-addiction centre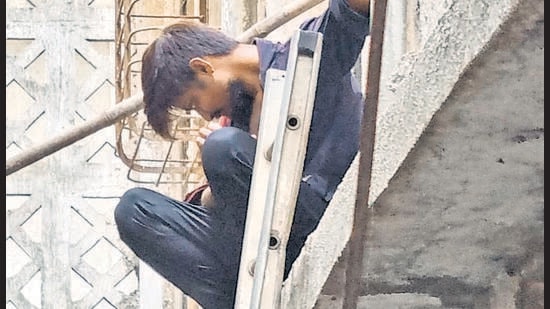 Mumbai: Residents of a building in Nalasopara East had a scare on Wednesday morning after they heard noises from the parapet between the third and fourth floors. What they believed to be the presence of a robber turned out to be a drug addict trying to escape from being sent to a de-addiction centre.
The incident happened at around 5 am on Wednesday when a woman in Sai Datt Building heard a distinct sound, which prompted her to alert the watchman.
The watchman of the building, Imran Ansari, responded to her call and checked the area to find a man standing on the parapet between the third and fourth floors and trying to steady himself with a stick.
Tulinj police officials were informed about the incident and a team rushed to the spot.
It took the police six hours to convince the 21-year-old man, identified as Nitin Aggarwal, to get down from the parapet.
The police personnel learnt that Aggarwal was not a robber. "He was threatening to commit suicide," a police officer, who was on the spot, said. "We tried to talk to him. But he could not hear what we were trying to tell him, and we could not hear what he was trying to say," the officer added.
Later, Aggarwal's sister and uncle came to the spot and told the police officials about his addiction and that they had planned to admit him in a de-addiction centre.
Aggarwal is a native of Indore in Madhya Pradesh and stays in the same area.
"Aggarwal was not willing to go to the de-addiction centre and had climbed the building. It took us a lot of time to convince him and to tell him that he would not be sent to a de-addiction centre. We had to book a ticket on IRCTC and tell him that we were sending him to Indore," the officer said.
Aggarwal finally cooperated and got down from the parapet at 1 pm. "We handed him over to his family," Rajendra Kamble, senior police inspector, said.