Marathon participants raise
₹

30 crore for 250 NGOs

Jan 16, 2023 12:42 AM IST
Mumbai: The Mumbai Marathon was successful in raising over ₹30 crore for 250 non-governmental organisations working on various social causes
Mumbai: The Mumbai Marathon was successful in raising over ₹30 crore for 250 non-governmental organisations working on various social causes. This was done through 11,000 participants of the Dream Run, 8,000 of whom were representing corporate groups that have donated to this corpus.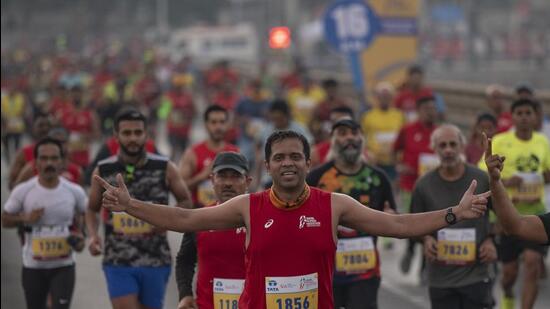 In its inaugural edition in 2004, Mumbai Marathon helped 12 NGOs raise ₹1.4 crore which rose to a whopping ₹46 crore in 2020. Though the marathon was not organised during the pandemic, the community it has built over the years still managed to raise ₹5.71 crore for 157 NGOs working for Covid relief activities in the interim.
"Philanthropy has been an inseparable part of the event since its very inception. The races ended on Sunday, but the fruits of the philanthropic endeavours of the participants live on," said George Aikara, the CEO of NGO United Way Mumbai, which is coordinating the fundraising activities.
Aikara was happy to note that corporate participation this year has been record-breaking with more than 8,000 employees (of 179 companies) participating in the event on behalf of their workplace.
Aikara also added that Covid-19 has changed the public perception of NGOs and the causes they should support. "Several hidden causes like mental health, domestic violence, and the digital divide between rich and poor were brought to the fore by pandemic-induced lockdowns," he explained.
This year also saw the highest number of participants in the 6km long Dream Run at more than 23,000 participants. In fact, some of those who were willing to participate but could not register on time were advised to try again next year, or run in a different category.
Among the various individual donors, 130 raised over ₹1.5 lakh each. The highest individual fundraiser is Shyam Jasani from Jasani Group who raised ₹1 crore, earning the title of Change Legends that only 15 people have earned in the history of the Mumbai Marathon. The title was also earned by his father, diamond baron Abhay Jasani in 2019.
Gagan Banga, Sadashiv Rao, Meera Mehta and Aarti Shah raised over ₹50 lakh each.