Nearly 20,000 auto rickshaws yet to recalibrate electronic meters
Published on Jan 24, 2023 12:45 AM IST
The state transport department revised and increased the fares for auto rickshaws and taxis from October 1 last year. Since then, they extended the deadline twice – on November 30 and until January 15. Yet, there are thousands of auto and taxi drivers, who have not recalibrated their e-meters with the revised fares to ₹23 for rickshaws and ₹28 for taxis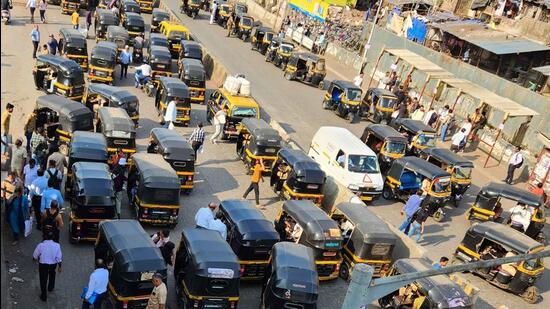 Mumbai: Authorities claim there are well over 20,000 auto rickshaws and 5,000 taxis that are yet to recalibrate their electronic meters after the latest fare hike and majority of them are the three-wheelers that ply on shared basis. This has put under scanner, the already maligned share auto-rickshaws and taxis that are meant to be a vital cog in daily commute offering last mile connectivity for Mumbaikars.
The state transport department revised and increased the fares for auto rickshaws and taxis from October 1 last year. Since then, they extended the deadline twice – on November 30 and until January 15. Yet, there are thousands of auto and taxi drivers, who have not recalibrated their e-meters with the revised fares to ₹23 for rickshaws and ₹28 for taxis.
According to officials from the regional transport offices (RTOs), majority of these drivers, of autos and taxis, are those who operate their vehicles on share basis. "We found that most of these errant drivers are those who run on share routes. They collect fixed fares and so do not bother recalibrating their e-meters. We have informed the auto and taxi unions as well to ask them to expedite this process," said an RTO officer on condition of anonymity.
The total number of registered auto rickshaws in Mumbai is close to 2.20 lakh of which around 20,000 auto rickshaws have not yet recalibrated their e-meters. These rickshaws mainly ply on share-basis in areas connecting railway stations of Bandra, Kurla, Kandivali, Govandi, Borivali among others. Likewise, the 5,000-odd taxis ply in areas of Grant Road, Wadala, Churchgate, Prabhadevi, Dadar etc from where they ferry passengers on share-basis.
"Time and again, we have been telling rickshaw drivers to recalibrate the e-meters. At least eight-10% of them are yet to follow the required process. Most of these rickshaws are those which operate on share routes on Western and Eastern suburbs of Mumbai," said Thampy Kurien, leader of Mumbai Rickshawmen's Union.
The union also claims that they have informed their members but the errant drivers of share-auto and share-taxi are paying no heed. "As per my information there are 5,000-odd taxi drivers, out of the total 20,000-odd taxis on road, who have not recalibrated their e-meters. The reason they state is that they expect further fare hike, and are waiting for the same, which as of now is not the case," said A L Quadros, senior taxi union leader.
Officials from the state transport department claim that they have asked the RTOs to levy fines on those auto and taxi drivers/permit owners, who have not recalibrated the e-meters. The RTOs are levying penalties of ₹50 per day for non-compliance of the deadline that ended on January 15.
The Mumbai Metropolitan Region Transport Authority (MMRTA) had initially set a November 30 deadline for meter recalibration. However, considerable number of auto rickshaw and taxi operators could not recalibrate their vehicle meters in time. And so, the MMRTA extended the calibration period up to January 15.
Exiting from any railway station in the suburbs, the first thing one notices are auto rickshaws crowding outside leaving little space to walk. Most of these rickshaws stand in multiple queues for share-routes covering different localities in that area. In the island city as well, the share taxis have become a menace at quite a few places.
"These share auto rickshaws seem to be poorly-maintained and rickety. They block the roads even on congested locations outside railway stations. It is difficult to even ask them to move as these share auto drivers are in groups," said Subhash Gupta, a resident of Kurla.
The business district of Bandra Kurla Complex, which is a hub for many MNCs, banks and corporate offices; boasts of fancy restaurants, broad roads, smart signalling systems and bespoke commercial buildings. However, reaching there from Bandra or Kurla railway stations is a task. People often find it difficult to find an auto rickshaw and those running on share basis.
The group of auto rickshaw drivers in Bandra (E) even issued their own fare chart wherein during peak hours, they charge ₹30 per seat and ₹20 per seat during non-peak hours. Even at other locations such as Kandivali, Govandi or Ghatkopar; there are problems of unruly drivers who ferry more than three passengers in auto rickshaws, that is not permitted.
"At stations like Prabhadevi and Parel, the share taxis make abrupt turns and speed up even in congested narrow roads. There is a need for the authorities to take action against such errant drivers," said A Jadhav, who has her office in Worli and takes the share cabs.
The RTO officials agree that there is a need for stringent action and stricter measures to reduce problems faced by passengers using these autos and taxis. The RTOs claim that they are setting up squads to cater to passenger complaints.