Once in dire state, Kalyan lake now features rocks painted as animals
Jan 23, 2023 12:42 AM IST
Once a lake that was turning into a dumping space at Adharwadi in Kalyan, has now become an attraction. Thanks to a seven-year-long concerted effort by the locals who took it upon themselves to keep the waterbody clean
Kalyan: Once a lake that was turning into a dumping space at Adharwadi in Kalyan, has now become an attraction. Thanks to a seven-year-long concerted effort by the locals who took it upon themselves to keep the waterbody clean.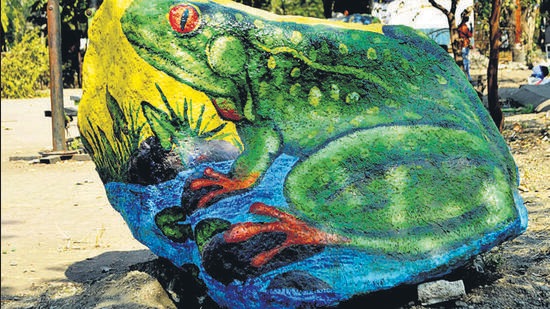 The lake now sports 16 huge rocks painted as various animals and birds like lion, tiger, dog, ducks, frog, crab, fish, cow and shark.
All these changes happened in the last seven years after a group of active residents kept on acting against dumping activities at the lake. The rocks that were once not visible due to garbage heaps have now become a treat to eyes.
"In 2016, we started acting against garbage dumping by clearing the lake. Later, we started creating awareness in the nearby societies and residential premises asking the public not to dump waste into the lake. Meanwhile, we also approached the Kalyan-Dombivli Municipal Corporation (KDMC) to help us keep the waterbody clean. The civic body eventually joined us," Dr Rupindar Kaur, a resident and KDMC cleanliness brand ambassador, said.
"Huge attractive rocks painted with animals have made the place look prettier and also the cleanliness has attracted many to come down and have quality time at the lakeside. Children now play cricket here, people come for walking and morning runs. We are also planning to make better sitting arrangements at the lakeside with the help of the civic body," Kaur added.
The rocks were painted by a student from Sir JJ School of Art, who voluntarily agreed to do the work.
"It took 20 days to complete the paintings as the surface of the rocks is uneven. Other students from the JJ School of Arts also joined me for learning. KDMC officer Prashant Bhagwat who was keen on painting the stones that were recovered during the clean-up of waste told us to do some attractive painting and we decided to paint animals," Kruti Patel, 28, JJ School of Arts student said.
"I never imagined the rocks which were once covered with waste dumped by the residents would look so attractive and clean. The entire look of the lake has changed and people are avoiding dumping waste here, which is a positive change," Suhas Kukreja, 39, a local, said.