Son of Shiv Sena rebel Eknath Shinde slams Sanjay Raut: 'What does he mean by...'
Published on Jun 27, 2022 01:27 PM IST
Lok Sabha MP from Kalyan, Shrikant Shinde, was reacting to a statement by Raut, in which the latter described the rebel party leaders as 'living corpses'.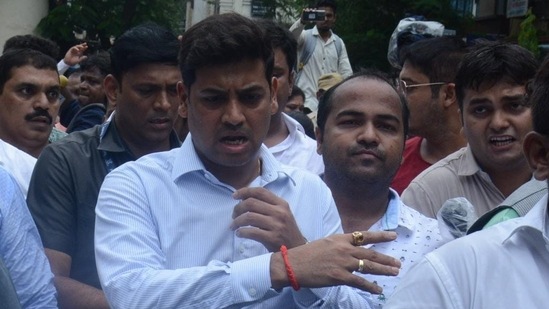 Shrikant Shinde, the son of rebel Shiv Sena leader Eknath Shinde, on Monday hit out at senior party leader Sanjay Raut, who has, in recent days, used threatening language when talking about the dissenting faction of the Uddhav Thackeray-led outfit.
Click here for live updates on Maharashtra political crisis
"It's not a rebellion but what what the people of Maharashtra want. What does he mean by 'bringing bodies from Guwahati'? This is not the culture of our state. He may threaten other people, but not us," Shrikant Shinde said, as quoted by news agency ANI.
Shrikant's remarks came amid a show of strength by the pro-Shinde Sena workers in the family's stronghold of Thane. The 35-year-old Sena MP from Maharashtra's Kalyan Lok Sabha constituency was reacting to Raut's statement on Sunday, in which the latter described the rebel legislators as 'living corpses'.
Initially, the Rajya Sabha MP used conciliatory tone when talking about the rebels. However, in recent days, he has upped the ante, going to the extent of making the aforementioned remark, and repeatedly daring them to return to Mumbai from Assam's Guwahati, where they are camping.
Also Read | Kab tak chhipoge Guwahati me..: Sanjay Raut's message to Sena rebels
Maharashtra has been put on high alert, and Section 144 imposed till July 10 in its capital, Mumbai, as Shiv Sena workers, supporting party supremo and chief minister Uddhav Thackeray, have taken to streets in protests against Shinde's betrayal.
Also Read | Maharashtra crisis: 'Dare them to come back', Raut's fresh salvo at rebel MLAs
In some places, offices of rebels were vandalised; Shrikant Shinde's office was targeted as well. On Sunday, the Union government announced protection under the Y+ category to 15 of the dissenting MLAs.
Close Story
Personalise your news feed. Follow trending topics