Two arrested in body in Audi case
Jan 03, 2023 11:44 PM IST
The accused, identified as Mohsin Hameed Mulani (37) and Ankit Rajendra Kamble alias Sai (29), are residents of Karanjade in Panvel who had fled to Nepal after the murder on November 18, 2022. The deceased, identified as Sanjay Karle (45), was a resident of Talegaon Dabhade in Pune
Navi Mumbai A month-and-a-half after the body of a Pune-based business man was found in an abandoned Audi car, the police have arrested two suspects in the case. The accused, identified as Mohsin Hameed Mulani (37) and Ankit Rajendra Kamble alias Sai (29), are residents of Karanjade in Panvel who had fled to Nepal after the murder on November 18, 2022.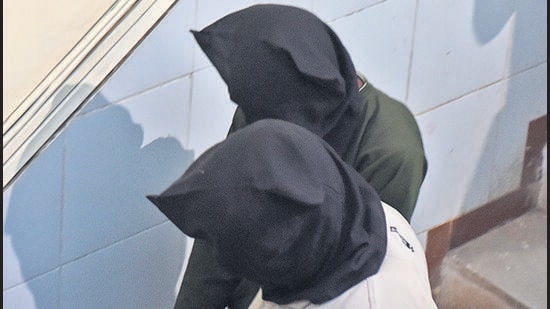 The deceased, identified as Sanjay Karle (45), was a resident of Talegaon Dabhade at Mawal taluka in Pune. Karle, apparently, had promised to give 200 grams of gold worth ₹10 lakh at ₹7.50 lakh to the arrested duo.
"The deceased had promised them gold lower than the market rate. The accused had already paid ₹5.50 lakh to Karle who had started demanding remaining ₹2 lakh. Karle, who was booked by Pune police for cheating several people by promising gold at cheap rates, had promised to meet the accused duo at Panvel Uran road," deputy commissioner of police (crime branch) Amit Kale said.
Karle met the accused on November 17 where he demanded the remaining amount. The two accused wanted to first see the promised gold and this eventually led to a fight. In a fit of rage the duo allegedly snatched Karle's gun and shot him dead firing five rounds.
"After the murder the accused allegedly drove the car near Karnala. Put the body below the rear seat and fled after abandoning the car," senior police inspector Ravindra Patil, unit II crime branch, said.
However, with the help of CCTV and technical evidence the police identified the accused. "From the day of the incident, the phones of the accused were switched off. They fled to Satara, Bangalore then to Jodhpur and finally to Nepal. Around three weeks after the murder, the accused returned to Pune seeking help from their friends and fled to Nepal again," Kale said.
On Tuesday, crime branch unit II officials received information that the duo was to come back to Pune to look for legal advice when the police laid a trap and nabbed them. The accused have been handed over to Panvel Taluka police where the case was registered. The accused will be produced before the court on Wednesday.
Mulani has a criminal record and has been previously booked in five different cases by the Pune police. Meanwhile, Kamble was booked in eight different cases. Mulani was currently managing a bar in Panvel and Kamble ran a laundry service. Even though the duo resided at Panvel, Mulani originally belongs to Induri in Mawal taluka in Pune, Kamble belongs to Umbarde village in Pen taluka of Raigad district.