Work on Mumbai-Vadodara Expressway causes cracks in houses; Palghar collector orders inquiry
Published on Jan 25, 2023 01:04 AM IST
The ground vibrations, allegedly caused by the construction of the Mumbai-Vadodara Expressway, has caused structural damage to at least two dozen houses at Khardi village in Palghar tehsil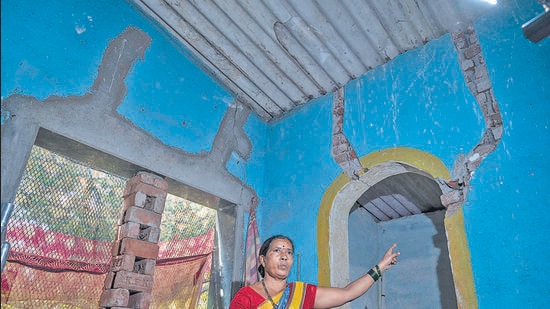 The ground vibrations, allegedly caused by the construction of the Mumbai-Vadodara Expressway, has caused structural damage to at least two dozen houses at Khardi village in Palghar tehsil.
District collector Govind Bodke has ordered an inquiry into the matter.
When an HT team visited some of the affected homes at Falotipada and Sarondapada on Tuesday, it found that cracks had developed on the outer and inner walls, ceilings, floors, and in corner spaces. In one home, belonging to one Nalini Mali, a wall looked so precarious that it had to be propped up with cemented bricks.
Locals, who are fearing for their life and property, said their walls began to develop these fissures soon after an adjacent quarry started subsurface explosions, around two months ago, to obtain gravel for the expressway. Khardi is hardly 15 km from Virar city.
Bodke, who is also the district magistrate, said, "We are aware of the situation. The Vasai tehsildar had on December 13 last year filed an initial report. A report is also expected from the sub-divisional officer later this week, and accordingly, steps will be taken to control the vibrations."
An official with the National Highways Authority of India (NHAI), Mumbai, who is privy to the project, said they were "planning to have the situation assessed by our independent consultant", but declined to give details.
Savita Bhoir, who lives in Sarondapada and farms for a living with her husband, said, "The explosions can be heard from across the Vaitarna in other villages. Utensils fall off the shelves. My husband built this house with his own hands less than a decade ago. What if it collapses? We do not want to be resettled. We want our houses to be safe. The government should pay for it."
Locals are also resentful of the tehsildar's initial report which places their homes at least a kilometre away from the quarry whereas many of them are within a few hundred metres of it. A copy of the report has been accessed by HT.
The residents claimed that they had not consented to various no objection certificates given by the gram panchayat to the NHAI contractor, allowing the adjacent hill - known as 'shel dongri' - to be mined.
Kiran Patil, sarpanch of Khardi gram panchayat, refused to comment on this allegation but said he had informed the collector's office of the situation.
The hill that once provided leaves and other organic matter to be used as fertiliser, a place to graze animals, and where villagers would grow vegetables and fruits, has now been shrunk by mining. The exposed gashes of earth and rock are in stark contrast to an adjoining hill, which is under the forest department.
"Why would we consent to destroying something which gives us food?" Madhukar Patil, a farmer from Falotipada, asked.
Raghunath Bhoir, also a farmer, said, "The quarrying is interfering with irrigation. My brother and I spent ₹1 lakh on installing a private borewell six months ago. But after the blasting began, it is yielding much less water. The borewell used to take just two or three hours to recharge, but now it needs at least four hours. Even the vegetables I am growing don't get enough water."
His brother, Dashrath, added, "We have dug a second pond in the village to access drinking water. But the taste of the water is different. Very often when we make tea with it, the milk splits. This was not happening earlier."
Surendra Thakurdesai, head of the department of geography and rural development at Ratnagiri's Gogate Jogalekar College, recommended that the use of explosives to mine the hill be stopped immediately.
"There is a risk to life here. The region has a lot of basalt rock under the surface, and even though the contractor may be carrying out controlled blasting, the vibrations will travel through this hard rock, and shake anything that rests on top of it, including people's homes," he said.
The hydrology of the area, Thakurdesai said, is also getting disturbed. "It is very common around such mines. The explosions cause an internal collapse of material, which can pollute the aquifer. It may also be causing cracks to form below the aquifer itself, and therefore the water level goes down. The only remedy is to stop the explosions and use mechanised hammers instead."