Noida: Realty firm's office sealed, e-auction to begin to recover dues
The district administration on Monday sealed the office of realty firm Radicon Vedantam in Greater Noida's Sector 16 C for failing to pay
₹
4 crore to homebuyers despite repeated notices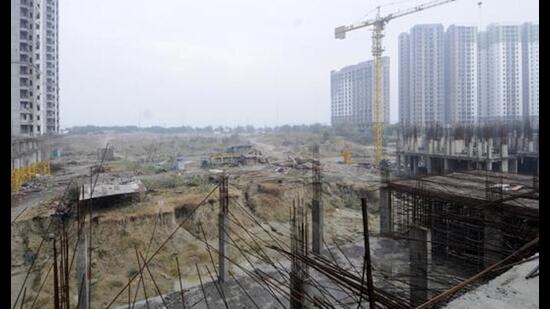 Published on Mar 15, 2022 11:11 AM IST
The district administration on Monday sealed the office of realty firm Radicon Vedantam in Greater Noida's Sector 16 C for failing to pay ₹4 crore to homebuyers despite repeated notices. The administration is likely to seal offices of other realty firms on Tuesday for defaulting payment of homebuyers.
"Today (Monday), we have sealed the office of Radicon Vedantam as it is has defaulted payment of ₹4 crore. We will seal the offices of other realty firms tomorrow (Tuesday) if they do not clear the payments of the homebuyers," said Vijay Prakash Mishra, tehsildar of Dadri.
Arpit Gautam, a promoter with Radicon Vedantam said, "We have come to know about the sealing and will do the needful to get the office de-sealed."
The district administration is likely to start e-auction of properties of the different developers, who have failed to hand over possession of flats/apartments to homebuyers on time and defaulted their payments, despite being served repeated recovery notices.
Recently, the Uttar Pradesh government allowed the administration to e-auction the properties worth ₹350 crore, which have been seized from the developers of realty firms for failing to clear the dues of the homebuyers. These properties include shops, flats, plots and office spaces.
According to procedure, if the builder or allottee fails to pay the homebuyers despite repeated notices, the homebuyers approach the Uttar Pradesh Real Estate Regulatory Authority (UPRERA) seeking refund from the developers. The UPRERA then asks the district administration to recover the dues to be paid to the homebuyers from the developers.
Subsequently, the administration first issues a notice or pins the notice to the property of the developer, giving him adequate time to file a reply. If the builder fails to submit a satisfactory reply, the administration begins the process of attaching the property, accounts and other assets, auctioning the same to recover the dues and also arrest the defaulting developer in some cases.
"Our process of issuing recovery notices and sealing offices or other properties will continue. We do not seal the property if the developer is willing to pay the dues. We have decided to e-auction properties worth ₹350 crore of the developers, who have not cleared dues despite being served repeated notices. We are taking the help of the Noida authority in this matter," said Vandita Srivastava, additional district magistrate.
The administration is also discussing the e-auction of properties of the defaulting developers with the Noida authority. "We had a meeting with the administration officials on e-auctioning of properties. The e-auctioning will be carried out once the administration provides us the exact details of all properties, their rates and other required documents," said Avinash Tripathi, officer on special duty of the Noida authority.
Close Story
Personalise your news feed. Follow trending topics