Rickshaw driver kills wife's friend, chops his body into 15 pieces; arrested
Published on Jan 22, 2023 12:13 AM IST
Suspecting that his wife was having an affair, a 40-year-old rickshaw driver allegedly killed her male friend and chopped his body into 15 pieces, which he then packed into three gunny bags and dumped them at Khoda Pushta late Thursday night, police said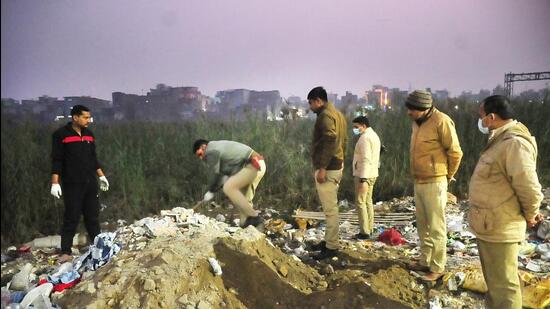 Suspecting that his wife was having an affair, a 40-year-old rickshaw driver allegedly killed her male friend and chopped his body into 15 pieces, which he then packed into three gunny bags and dumped them at Khoda Pushta late Thursday night, police said.The driver, Milal Prajapati, was arrested on Saturday from his house in Khoda Colony .
Ghaziabad police said they came to know of the bags from locals who got suspicious after stray dogs started gathering around them on Saturday morning.
The police identified the deceased man as Akshay Kumar, 23, who hailed from Kotputli in Rajasthan.He was allegedly in a relationship with Prajapati's wife, whom the police did not name.
"Prajapati asked his wife to call Kumar to their house on Thursday and he came there in the evening. She then went to a hospital in Delhi with their minor daughter who had suffered a burn injury. In the meantime, Prajapati made Kumar consume a few drinks and killed him late night using an axe-like weapon (called gandasa in Hindi) and chopped his body into pieces," sad Diksha Sharma, deputy commissioner of police (trans-Hindon).
Police said Prajapati has no previous crime record; yet, he chopped the body up to make it fit into the gunny bags. Around 1am on Friday, he took the three bags in his rickshaw and dumped them at Khoda Pushta area near the UP Gate flyover.
The Pushta area has some bushy stretches that, over time, has turned into garbage dumping spots. On Saturday evening, locals saw stray dogs gathering near the bags and they informed the police.
A team from the Ghaziabad police opened the bags to find a dismembered body inside. They began looking for ways to establish the deceased man's identity and came to know from their informers that Kumar often visited Prajapati's house and was also known to the locals.
"Prajapati's wife was in the hospital with their daughter when the murder took place. There is no evidence as yet which point to her involvement in the crime. An FIR of murder has been lodged on a complaint given by Prajapati's landlord. Kumar's family has been notified," said Swatantra Kumar Singh, assistant commissioner of police (Indirapuram).
Police said the woman was Prajapati's second wife and he has a minor daughter with her and three others from his first marriage. All four children live with the couple at their Khoda home.
Khoda SHO Yogendra Malik said the children were in the same room where the murder took place. "We are yet to speak to the children who were in the room where the crime took place. Their statements will be crucial in understanding what exactly transpired," said the SHO.
"The woman knew Kumar since the past three years and two years ago, she eloped with him but later returned. Prajapati was angry as Kumar continued to meet with his wife; he often came to their house when Prajapati was not home," said a police officer, asking not to be named.
The police team has collected all three bags sent the body parts for an autopsy.